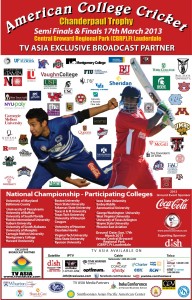 Colin Michael Jodah (10/01/1956 – 01/18/013), though legally blind, did the schedules for the 2010, 2011 & 2012 American College Cricket Spring Break Championships. Mammoth tasks, as we set a world record in 2010 by having 47 matches, then broke that record in 2011 by having 67 in 5 days !
The most ever for any cricket tournament in the world ! All of American College Cricket thanks Mike, elder brother of Lloyd, American College Cricket founder.
All matches on the schedule are shown as taking place on the 2 side-fields of the CBRP Cricket Stadium & 2 at Brian Piccolo Park- the actual Stadium matches will be picked from these and revealed later.
There are 4 Groups of 7. Each team plays 3 matches, within its Group & possibly outside. The Top 2 teams from each Group advance to the Elite 8 for the knockout stage. Advancing is based on POINTS.
http://americancollegecricket.com/2013/02/22/nationals-format-points-rosters-rules-fields-etc/
http://americancollegecricket.com/2012/10/02/reminders-for-all-players/
The Final Four & the Finals' matches, on March 17, will be filmed & shown on TV Asia. TV Asia has broadcast 21 American College Cricket matches since Oct 2011.
For 9 am matches the teams must be ready to play at 8.30 am (matches may start early if there is minimal dew on the outfield).
For 12 noon & 3 pm matches teams must be ready to play 1 hour before scheduled start (in case previous match ends early.
As in 2012, American College Cricket is sponsored by Coca Cola, with supporting sponsor Dish Network. The National Champion wins the Chanderpaul Trophy !
Click here for SCHEDULE : done by Jamie Lloyd & CricHQ's Competition Management
http://americancollegecricket.com/american-college-cricket-scores/ 

"LIKE' us on Facebook :https://www.facebook.com/CollegeCricket?fref=ts