Below are the teams for the Mid West Conference Championship – Sept 29 & 30, for the Gordon Gee Trophy, & sponsored by Coca Cola.
 4 Big 10 schools are included.
A full crew from TV Asia will film the Semis & Finals on Sept 30 will be filmed ball by ball. This will be at the Buckeyes Cricket field on the Ohio State campus. 
There will also be a roving camera on Saturday Sept 29.
As in the past 2 years the OSU Buckeyes Cricket Club will host,and play an enormous role in the organizing of the Mid West regional.
The Club is looking at possibly having a Mela-type event Sept 30. 
Below you can see samples of the uniforms for the teams getting new unforms, – no team can play unless in proper uniform (you will be on TV). The other teams will be wearing their uniforms from the American College Cricket Spring Break Championship.
E
ach team must also complete their "Likes" to qualify.
Reminder : we don't play invisible cricket, & you can't just show up to play, you must promote what we do – without a strong national organisation, your club is a single voice in the wind. Start earning your BONUS POINTS now by promoting AmericanCollegeCricket.com articles on Facebook, Twitter & other Social Media.
I understand some schools just resumed this week, but please complete what you have to do ASAP, to play.
Ohio State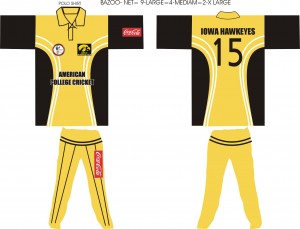 University of Iowa
Iowa State
Carnegie Mellon
University at Buffalo
Ryerson U
Penn State
College of Wooster
Each team will play 2 matches on Saturday, Sept 29. The top 4, based on points, will advance to the Semis to be played on Sunday Sept 30. Each game will be 20 overs, and finish within 3 hours.
Review the Rules & Bonus Points: