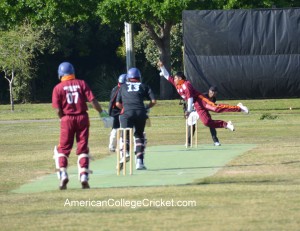 1. Teams must play in their primary Regional Conference, & may play in other regionals. This will increase the amount of competitive action our clubs get, e.g Rutgers' primary regional is the Northeast,which Rutgers must play in, but they may also enter the Mid Atlantic.
2. Teams may include Undergrads, Masters & PhD students. A maximum of 2 alumni may be in the playing XI (where school rules permit).
NO exceptions. An alumni is defined as someone who graduated from the college, not merely attended classes.All players are verified by a College Official.
3. Canadian teams may enter any regional – the Mid West & North East are closest.
4. ALL matches will be scored with the CricHQ  iPhone or Android app, using the Username & Password supplied. This will build all the stats in one database. The 2nd scorer will score manually.
5. Each club must build its own fanbase – amongst your fellow students,alumni & students associations. Involve your College Media.
PLAYING RULES : Standard ICC rules except for the following:
1. Balls pitched within 3 inches on the leg side will NOT be wides – giving bowlers more opportunities to vary their line & compel batsmen to play shots off the legs, & on the leg side. (practice accordingly).
2. A maximum of 6 fielders is permitted on any one side
FORMAT:
1. Each team will play 2 matches, on Sat & possibly Sun. Each match must finish in 3 hours, so practice accordingly.
2. Based on POINTS earned, the Finalists will be determined, & play the last match on Sunday.
This format allows us to fit the Regionals on a weekend.
POINTS :
When writing about the first American College Cricket Spring Break Championship in 2009 the New York Times said, "cricket has not even registered a pulse on the American sports scene". The game was invisible.
American College Cricket deliberately set out to change that, and we have brought Mainstream media to the game like no one before or since. We pioneered the use of Social Media like Facebook & webstreaming – & we are happy to see other cricket in the USA following.
But we have a far way to go so don't just show up to play – promoting AmericanCollegeCricket.com is your membership dues.
Our Points System was developed to encourage exciting cricket on the field,and promotion of the game off the field – Every player must use Social Media to promote American College Cricket.
Win = 7 pts.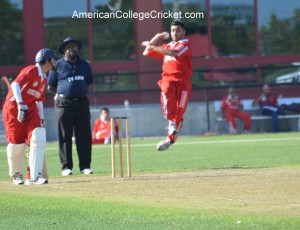 Run rate of 7.5 = 1 bonus pt
Run rate of 10 = 1 bonus pt (additional)
Losing all wickets results in a forfeiture of all Bonus pts.
Bowling a Team out = 1 bonus pt.
Loss = 1 pt
OFF THE FIELD PERFORMANCE
Bonus points will be awarded to teams that promote American College Cricket & your Club in the Media :
1. for posting AmericanCollegeCricket.com articles on Facebook, Twitter Google + & other social media. Anyone may send me Friend Requests.
2. for getting publicity in your student media or college website, or media outside of school,at Homecoming etc. If your team has a section on your school's website, get AmericanCollegeCricket.com put as a link.
Engage the Student Associations, like the Desi, Caribbean SAs etc, & give them the info about your Club & American College Cricket.
EVERY player, & member of your Club MUST "like" the AmericanCollegeCricket.com Fanpage on Facebook.
REGISTRATION : Official Registration Deadlines & Fees will be announced later in August – Club Presidents may begin emailing their Pre-registration to Lloyd @ Dogevpr2@aim.com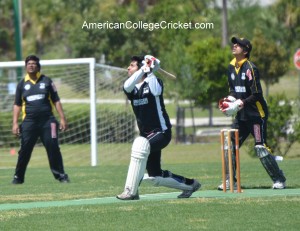 PHOTOGRAPHER : An action photographer is needed for each regional. Must have a long-lens camera, & NOT be playing. Email Lloyd @ Dogevpr2@aim.com
EQUIPMENT : Top quality American College Cricket branded pads,gloves etc is now available to purchase. You may order by emailing Lloyd. They should be on the website by mid-August.
NEW TEAMS : To begin a team or join American College Cricket, contact Lloyd Jodah.
"Like" AmericanCollegeCricket.com on Facebook
                                                                                                      https://www.facebook.com/CollegeCricket
PHOTOS by Kristen Ashcom