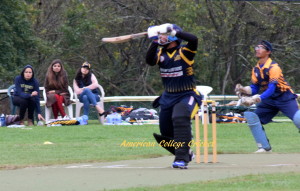 Each year since after our first, 2009, we've selected the "College Players" of the Year. By 2010 Nationals, when we had 19 teams compete, we probably had at least 1,000 players around USA & Canada to choose from, and since we've gone well past that.
Choosing the top players from that many is extremely difficult so the first eliminator is: to be eligible one must have participated in the National Championship which brings it down to about 350. Performances in Nationals, Regionals and Home & Away season count together with OFF the field work raising the profile of American College Cricket which can be as easy as Facebook Sharing, to the more complex work of Club Presidents & Club Executives.
One of the College Players of the Year is selected for the Rohan Kanhai Award, and this year's recipient is Devvrat Tibrewal, Drexel University Club President & Captain.
We have lots of very talented players, all of our Awards,including the College Players of the Year Awards, reward those who help us grow the game.