Amir Saddique has been retained as Coach of the American College Cricket USA team to play vs the Canadian College Cricket All Stars in Orlando Jan 27 & 28, 2018. Amir was the Coach for Series IV in Texas in Jan 2017 when USA won 3-0. Previously Amir has been a Coach at the American College Cricket National Championships since 2011 as well as at the South East and later the South West Championships, in addition to his duties as a Tournament Manager. American College Cricket National C'ships since 2011 have all been 50 matches or more in 5 days.
Coach Amir Saddique has an impressive background, including being former Captain of Pakistan's Baseball & Handball teams. His involvement with American College Cricket raised his profile tremendously in USA and led to stints as Coach of the USA Under 19 team, coach at the ICC Combines to select a USA Team, Coach of semi-pro team Houston Sparks and the Houston Cricket League All Stars. He participated in the Caribbean Premiere League (CPL) High Performance Training course when the CPL came to Florida.
Now his coaching expertise is leading a  different approach to coaching youth, in the Houston area. Amir has been conducting sessions on his own, and with different youth cricket academies in the    Houston area. He has reached out to schools, to expand the game's horizons and increase the market for cricket coaching. Cricket coaching severely limited itself in USA, Coaches & Academies should have been going to schools & making free presentations – this is actually in their self interest as they can potentially generate new business, new kids who want to learn the game. A lot of Americans support their kids' sports activities, and cricket has not taken advantage of that to grow the game.
Also the focus on individuals' skill development dominates cricket coaching. The game, like martial arts, has many attributes that contributes to discipline, team work etc. These are selling points that can be used to get more kids involved. Amir understands and believes in these ideas and now he's actually implementing them.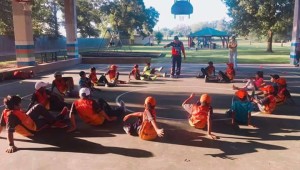 Amir's background in cricket, baseball and handball gives him broad knowledge that is great for coaching kids. Kids who play different sport have a better foundation when they do focus on a main sport. Apart from coaching by himself Amir coaches kids at Katy Youth Cricket, Nair's Cricket Academy, Clearlake Youth Cricket Academy, Smart Choice National Academy and recently even made a trip to D.C to coach with Washington Capitals Sports Academy at the British International School.
Amir can be contacted for coaching, of kids, adults or professional teams at : sportsislife@gmail.com , ph # 561 674 4591