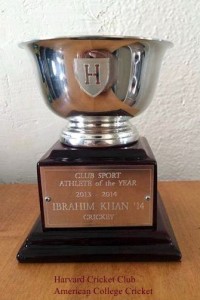 Out of 66 Club sports and over 1,900 athletes Harvard's outgoing cricket Captain was named the male Harvard Club Sport Athlete of the Year ! A great accomplishment for Ibrahim, his club & American College Cricket as a whole !
Ibrahim Khan restarted the Harvard Cricket Club in in 2012 and immediately joined American College Cricket- this was particularly notable as Harvard first had an official cricket team since back in 1858, but for about 85 years cricket had been mostly dormant at the school.
Khan almost immediately challenged Harvard's main rival, Yale which, as American College Cricket President Lloyd Jodah pointed out, had also happened 124 years ago in the Harvard Crimson. This time Yale accepted the challenge, and played Harvard – the Crimson boys winning easily.Harvard then played in the 2012 North East Regionals, winning their first 2 matches before before losing to the then reigning National Champion York College.
Ibrahim led the team to the Nationals, despite having exams at the same time and later in the year saw Harvard play University of Pennsylvania in the Finals of the first American College Cricket Ivy League Championship at he historic Philadelphia Cricket Club.
Meanwhile the American College Cricket Home & Away league had begun and Ibrahim, motivated to win the first season, secured use of Jordan Field, Harvard's hockey field complete with lights, and invited other college teams to visit. This spurred the development of the Home & Away league and soon Princeton, Boston U and Northeastern were playing on campus as well, under lights. He also played a key role in helping new clubs like Bryant University and Worcester Polytechnic Institute (WPI) become a part of American College Cricket
This move on Ibrahim's part was extremely important as, from the earliest years of American College Cricket Lloyd Jodah had urged college cricket clubs to be flexible in their approach to getting places to play, recommending they try artificial turf fields used in other sports. Ibrahim was the first to really take up this concept – the result is that now cricket is now being playing on campus at many colleges.Because of Ibrahim's determination, Harvard played the most Home & Away and won the first season of the Home & Away League with Ibrahim topping the batting & Bowling aggregates, earning the season MVP Award.
For his outstanding leadership on and off the field, and his performances on, Khan was named one of the American College Cricket Players of the Year for 2013.
Ibrahim brought in a major sponsor for Harvard Cricket, the Hit Wicket Sports Bar & Restaurant, which together with the support of Harvard Professor Blyth, ensured Harvard's particpation in the 2014 National Championship. The send off party included Professor Stephen Blyth and special guests US British Consul General in Boston, Ms. Susie Kitchens and former Harvard Hockey captain, NCAA champion and member of the US Men's Hockey Olympic Team, Lane MacDonald.
It was fitting that to culminate his American College Cricket career Ibrahim was awarded the Harvard Club Sports Male Athlete of the Year
http://gocrimson.com/sports/wice/2013-14/releases/20140417qkmdji
American College Cricket President Lloyd Jodah said, "The full squad has not been announced but Ibrahim Khan is a member of our 2014 All American Team. Ibrahim truly deserves every honor he has received. Cricket has now once again made its mark at Harvard, and that's largely Ibrahim's legacy. He set the bar high for the students to follow. With leaders like him, it makes it easier for American College Cricket to accomplish its goals as we go from strength to strength."