They grew up as friends in Lynn, Massachusetts. Typical American boys, one played mainly Lacrosse & ice hockey, the other football and baseball. Then about 5 years ago, Norris Guscott, the elder of the 2 friends visited England and was introduced to cricket – though his father was from England & his mother Jamaica. He came back convinced that if he and his friends learnt the game they would "dominate" ! (visions of being Napoleon haunt every young man).
Norris began to learn the basics & convinced his childhood friend, the hockey/lacrosse player, Danny Yetman, that this was a brilliant idea ! They then "snapped the blade off " one of Danny's hockey sticks, & constructed a wicket, then played their first 'game' in the snow !
As Norris tells it, "My first pair of "wicket keeping gloves" were heavy duty garden glove and a baseball served as our cricket ball- we made it work though. Ultimately, we moved to school yards and then settled on a caged in area very near and dear to our hearts called Flax Pond, where we learned the basics of cricket. It taught us to play controlled aerial shots and to hit along the ground because if you didn't– right in the pond it would go. Also because it was usually just us 2 and one other person, we had to learn how to do it all- bowl,bat, and wicketkeep. Dan and I like to say that Lynn is a breeding ground for all-rounders.
We spend hours watching/reading current material on technique and even more applying them in practice.We watch almost every international match, play as much cricket as we can (mini cricket indoors too!). I joined a club, United Athletic, in the MSCL and later invited Danny too."
Danny Yetman,22, was born in Salem, Massachusetts but grew up in Lynn, where he became childhood best friends with Norris. Danny played hockey for 15 years (he was a goalie),and lacrosse at a Div 1 high school where he also did some lacrosse coaching, he said.
Inspired by Norris, as Dan explained,"In the summer, we would play cricket from the time we woke up, until we couldn't see the ball."
We asked Dan some Questions.
Q -Harvard, has played a major role in US sports history, starting with cricket & rowing then later football. Now in just a year, a revived Harvard Cricket club, led by Ibrahim Khan, competed in a National & Regional Championships & the Ivy League Championship, tthen won the Home & Away league Championship ! Along the way you, and the Club ,have been covered by your hometown paper, the Boston Globe, & the Harvard Gazette. How does it feel to be a part of such a year ?
>>     Playing for Harvard is truly a blessing for me. We had an outstanding season. I couldn't be more proud of our team and especially our captain Ibrahim Khan. He is an inspiration to me, and my fellow teammates. His saying " over by over, ball by ball", has stuck with me and my teammates all season and it will be a motto for the Crimson for many years to come.
American College Cricket has done an outstanding job of bringing competitive cricket back to the United States. I love the idea of regional tournaments such as the Northeast regional and the Ivy League championships, then a national championship that allows all the best colleges in the country to compete against each other ! Its very good that American College Cricket encourages games on campus so that its noticed by anyone walking by, people often stop to ask what exactly is happening or what the sport is, and to me that's the best way to spread the game in the United States."
Who are your favorite International players ?
>>      My favorite batsman of all time would have to be Vivian Richards, and current would be either Jacques Kallis or Alastair Cook. My favorite current bowler would have to be Graeme Swann, and of all time it would be Shane Warne. I love following the England squad but I also like the West Indies.
What do your family & non-cricket friends think of your 'new' love ?
>>     My friends and family are very supportive of me playing cricket. They enjoy hearing about a game that is not so popular in the United States, I have informed many people that cricket is much more alive in this country than they know. I also have many friends  who come to games regularly, and they have a great time.
This coincides with what Norris said, "Dan and I are trying (and succeeding) in bringing our American friends to matches and introducing them to cricket. I don't know why people reckon it's so hard to get Americans into cricket."
In the American College Cricket Ivy League Championship, Princeton had Harvard on the ropes, at 84 for 7, needing 108 to win, with practically all the top batting gone.Danny strode to the wicket, & confidently cutting past point, & pulling backward of square leg he scored 4 fours in his 18* to get Harvard to victory, & the Finals ! Earlier he had taken 2 wickets for 17 runs to top the bowling. Danny was the game MVP.
In Home & Away matches he averaged 56 ! Batting 3 times with 2 not out & a Highest score of 34*. He took 4 wickets. At the Nationals he scored 47 at an average of 23.5, with a H.S of 26 and took 3 wickets for 18 runs in the one game he bowled.
American College Cricket President Lloyd Jodah said, "Norris' & Danny's story of their cricket development reminds me of my brothers' & myself, except we learnt the game as tots, whilst these 2 cricket brothers learnt theirs as young men. Its a pleasure to have Danny Yetman as our 5th John Bart King Award winner. He is a meritorious ambassador of American College Cricket and the game."
Previous winners of the John Bart King Award are :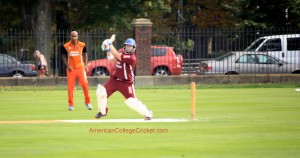 2009 – Curt Sonnet (George Washington U)
2010 – Ian Carlin (College of Wooster), appeared in the pre-Super Bowl Jan 31, 2011 issue of Sports Illustrated
2011 – Darren Stortz (U of Iowa)
2012 – Nick Mancino (U of Pennsylvania)
The John Bart King Award is named in honor of America's greatest cricket player. It is awarded annually to an American College Cricket player, who learnt, and plays despite having no previous family connection to cricket.