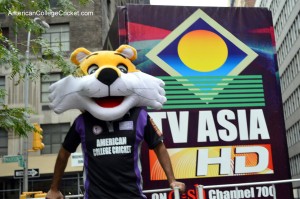 Deadline for ordering uniforms for the Mid West Championship is August 25 . For the Ivy League Championship its August 31.
Uniforms ordering deadline for all other Regionals is one month before the Regional – no exceptions.
You may submit your own designs or select from the designs here, and SIZES. The only colors will be your college colors but white must NOT be a primary color. NO sublimation designs.
Numbers 1 through 15 will be on the back, with the school name on the top-back. "American College Cricket" will be  across the torso, with your school logo on the left chest,  the American College Cricket logo on the right chest.  Coca Cola will be on the left sleeve, & left trousers leg.
Caps will carry your school logo.
Payment must be sent with your order. No uniforms can be ordered from external vendors. CLICK on design pick to get number.
American College Cricket brand equipment such as pad covers, helmets etc are also available. Email all orders to Lloyd.