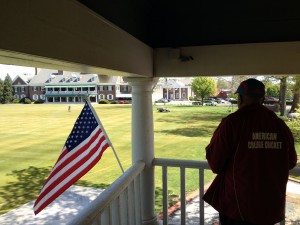 It's time ! To millions its college football season, to some of us its college cricket – let's grow those numbers !
There are over 100,000 International students from India in American universities, plus thousands more who are American citizens & residents. Add the students of other "cricket background": Pakistanis, Caribbean, Sri Lankans, Bangladeshis, South Africans,Nepalese, British, Australian etc and we have a large audience to capture, and expand beyond to new fans !  
American College Cricket clubs may begin registering for the Mid West Regionals – scheduled for Sept 14 & 15 at Iowa State University, and the Ivy League Championship scheduled for Sept 28 & 29 in Philadelphia.
To register, Club Presidents must email Lloyd Jodah at Dogevpr2@aim.com. Include links, or 5 screenshots from Facebook postings showing dates (over the past 2 months) of shares of AmericanCollegeCricket.com articles by your club & its members. Later Regionals will require 10.
Sharing of American College Cricket articles & info in your club's Facebook group/page is mandatory. Other sharing in social media is desirable to expand your club's, and our fanbase.
Only Ivy League schools can play in the Ivy League Championship. These  are : – Harvard, University of Pennsylvania, Yale, Princeton, Cornel, Columbia, Dartmouth & Brown – a maximum of 6 will play on Sept 28. Ivy League colleges may also play in any Regional.
All clubs in all Conferences are expected to begin playing 'Home & Away' matches when you return for the Fall semester. These matches are a requirement for eligibility to play the Nationals. They will also give your teams practice playing together, & finishing games expeditiously for TV.
At the Summer Break, Boston University was # 1 in Points, Harvard # 2 & Princeton # 3 in "Home & Away" games.  http://americancollegecricket.com/american-college-cricket-scores/
TV Asia is our Exclusive Broadcast Partner, our Presenting Sponsor is Coca Cola, with Supporting Sponsor Dish Network. CricHQ is our Cricket Technology Partner. Anyone interested in being a sponsor may email Lloyd at Dogevpr2@aim.com
American College Cricket did the first webstream ever of cricket in the USA & Canada in March 2010, and with TV Asia has televised 24 games since Oct 2011. The Semis & Finals of all our tournaments this season will be on TV Asia.
If clubs need uniforms or equipment, contact Lloyd. All clubs must have at least 3 players who can use CrichQ for scoring. A club may enter multiple Regionals.
All players are expected to obey their college's Club Sports Code of Conduct, and American College Cricket rules.
To begin a club in your college, contact Lloyd