An "All America" team is an honorary team from a college sport, composed of outstanding players – in other words, an all star team; & is referred to as "All Americans". Here is our 2013 First Team – we named a squad of 16  :
Rikin Parikh (UMBC) – Captain
Asghar Abdullah Sheikh (S. Florida)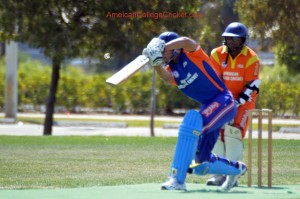 Divya Patel (Arkansas State)      
Hayat Khan (Boston U)                                  
Rohan Uttarwar (Wayne State)                        
Sai Ramesh (S.Florida)
Sher Tareen (Harvard)         
Murali Ankaraju (Memphis)                     
Digant Samant (UMBC)
Raghav Bharadwaj (UMBC)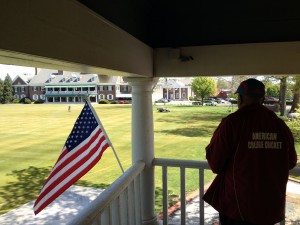 Adil Bhatti (Montgomery C)
Umer Syed (UT Arlington)
Krunal Bhange (S. Florida)
Prashanth Manne (Houston Clearlake)
Gurnish Singh (UMBC)
Sohail Chaudhry (W. Virginia U)
An All America 2nd Team will be named. In addition,whilst the number of Canadian teams participating was not enough to allow selection of an All Canada team, the following players warranted that designation:
Hassan Mirza (Ryerson)
Harsh Desai (Ryerson)
Selection was based on :
1 – the American College Cricket National Championship performances
2 – the American College Cricket Regional Championships performances
3 – American College Cricket Home & Away league matches
4 – sportsmanship on & off the field
5 – contributions made off the field which promote American College Cricket (such as sharing American College Cricket articles on Facebook, being Club President, organizer etc).
Players must have played in the 2013 National Championship to be eligible. Being an "All American" means you are among our best players on the field, plus you are an ambassador for American College Cricket, your college & the game on & off the field.
The task of making the Selections was tough, but much less difficult this year because of our full use of CricHQ's Competition Management software – our appreciation to Jamie Paul Lloyd.
Thanks to the Coca Cola & Dish Network sponsored matches on TV Asia (24 since Oct 2011), half of our All America players were seen by a wide audience across USA & Canada on TV. The TV season resumes in Oct 2013 when more American College Cricket players will get the opportunity to showcase their talent.
Like us on Facebook : https://www.facebook.com/CollegeCricket