As a followup to working with the Compton Baseball team & Watts kids, David Sentance began another American College Cricket project on Thursday, this time in conjuction with the Los Angeles Parks & Recreation Dept, at the Encino Summer Camp.
In time the program may be rolled out throughout the LA Parks & Recs Dept at their Summer camps, utilising American College Cricket & other coaches. The LA Parks Dept is one of the largest cities' parks dept.
David, together with American College Cricket's Junayd Banday (UCLA) & Colin Sentance (Humboldt State) with USA player Sandra Ibarra,began a 6 week cricket coaching program at Encino. They will be joined by 6'6 former Harlem Globe Trotter Mustafa Khan in future sessions.
The Encino Summer Camp is over 25 years old, and has about 120 kids 6 to 14 years old. Despite being a neighbor of Woodley Cricket Fields this is the first time cricket has been introduced to the camp.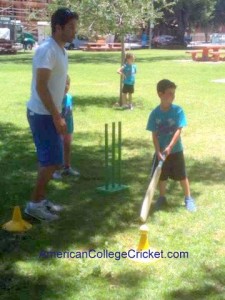 Sessions will be on Tues & Thurs for about 3 hours from 9.15 am to 12.30 pm. Any American College Cricket players who are available to coach, please email Lloyd at Dogevpr2@aim.com. Coaches will be paid.
Working in conjunction with the Los Angeles Parks & Recreation Dept, is part of an effort by Sentance, American College Cricket & the Audubon Society to get a 5th field at Woodley, dedicated to youth. Back in 2010 Sentance & American College Cricket helped keep 2 of the current Woodley fields from being taken over for garbage dumps.
Tracy Hardy, longtime Camp Director and the kids were enthusiastic after the first session, & cricket t-shirts are in the works !  Sandra Ibarra, herself a pioneer, was "happy to be sharing another milestone" with David.
Junayd captained the UCLA team for their first American College Cricket match in 2010 & scored a scintillating 79. Colin, his father David said, now 21, was good enough to be selected for the USA Under 13 2nd XI and has now returned to the game. Colin's brother & former cricketer, Cameron, plays football for UC Davis Aggies.
There are plans for a Encino Summer Camp XI vs a Sheenway School & Culture Center XI (under 13) in August – "two All American teams" said David, who just this week celebrated a birthday, & becoming an American citizen !