Congratulations to all our graduates – the degrees you leave with, and the skills you developed as cricketers will help you greatly in life. As Joseph O'Neill said in "Netherland" :—- "For what is an innings if not a singular opportunity to face down, by dint of effort, skill and self-mastery, the variable world ?"
As many of you have said,some of your best college memories are playing in American College Cricket tournaments.
So below is the tentative schedule for more great memories this Fall in our Regional & Ivy League.Championships, presented by Coca Cola, with supporting sponsor Dish Network. Dates may be changed based on TV Asia production scheduling, exams, weather or other reasons.
All clubs must submit more than 10 links showing American College Cricket stories shared on Facebook & other social media, with their Registration.
Sept 14 & 15       Mid West                (Iowa State U or Pittsburgh)
Sept 28 & 29       Ivy League           (Philadelphia)
Oct 5 & 6            North East              (NYC)
Oct 12 & 13        Mid Atlantic        (Pennsylvania)
Oct 26 & 27        South West         (Texas)
Nov 3 & 4           South Central    (Arkansas)
Nov 9 & 10         South East         (Florida)
Nov 23 & 24       West Coast      (California)     or Nov 16 & 17
Before, & in between these Championships,colleges will play "Home & Away" matches against each other (already begun in the Spring Semester, with Boston University currently leading & Harvard 2nd in the Points Standings). All matches are scored & carried on CricHQ.
If your club has a Facebook page, it MUST post AmericanCollegeCricket.com articles, for other clubs our players should be posting our articles on their personal profiles sometimes, to be eligible to play.
A team must play in the Championship in their Conference, & may also play in any other Regional they would like to enter. Each team must play a minimum of 3 Home & Away matches to be eligible for the Nationals, & at least 1 before the Regionals. More than 70 colleges around USA & Canada will compete in American College Cricket this year. To begin a team, or join contact Lloyd Jodah, Dogevpr2@aim.com
Beginning in Oct 2011, TV Asia has televised the Semis & Finals of most American College Cricket Championships, 24 games have so far been shown on TV all over USA & Canada.
American College Cricket is the first entity to webstream (March 2010) & televise domestic cricket in USA & Canada.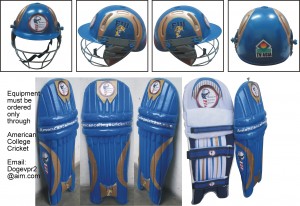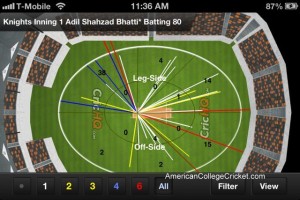 PHOTOS :
2 & 3 : American College Cricket equipment
4 – Adil Bhatti's wagon wheel,80* at the 2012 Mid Atlantic Regional
Nationals Photo Album https://www.facebook.com/media/set/?set=a.10151369854564331.1073741825.264550834330&type=3