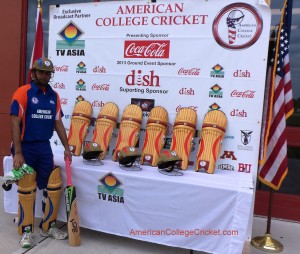 Harvard University's Jordan Field will be the scene of action for 2 of Harvard Cricket Club's Home matches this Saturday, April 13. 
Live ball by ball scoring will be provided by CricHQ, & fans can follow anywhere in the world
(just click on the "American College Cricket League" link then the games' )
http://americancollegecricket.com/american-college-cricket-scores/
The Points for "Home & Away" matches :
7 points for a WIN
4 points for playing an AWAY match
4 points for a LOSS
1 Bonus point for scoring rate of 7.5
1 additional Bonus point for scoring rate of 10
1 Bonus point for bowling a team out.
0 Bonus points for team that is all out
To be eligible for the 2013 Regionals each team must play at least 3 "Home & Away" matches against other American College Cricket teams.
Top team at the end of the season will be our "Regular Season Champion".