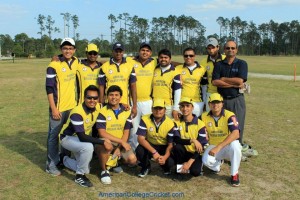 Current, and all time great Shiv Chanderpaul is unique in being an active Test player working on the development of cricket, in a key country for the game's past & future. He has been a part of American College Cricket since Dec 2008, and much more than the name on the Chanderpaul Trophy.
Just last December, Chanderpaul announced the launching of the American College Cricket Hall of Fame at a Press Conference. In 2011 he made an appearance at the University of Central Florida and met with students from USF and UF.
This past weekend as part of his commitment to American College Cricket Chanderpaul gave the Embry Riddle Aeronautical University team the opportunity to play a friendly match against him, and to meet with him.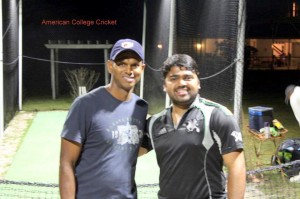 Later Shiv had an extended "nets" session with Jerin Chacko & other members of the team at his personal nets & bowling machine in Orlando, where Chanderpaul usually bats for hours.
As Shiv's Manager Chris Thakoorprasad said, "Shiv has said that whenever his hectic International playing schedule allows, he wants to interact with, and coach American College Cricket players, and this weekend was such an opportunity."
American College cricket President Lloyd Jodah said," The Embry Riddle club led by Jerin Chacko & Harsh Gothwal have been very proactive in carrying out our Mission, so when Shiv's Manager Chris mentioned this idea to me, I loved it right away."
In the match,Daytona got 277/6 in 40 overs. Shiv was out at 15 in the first 10 overs. He edged the ball from Abdullah Sheikh (guest player from USF)  to the slip, Dhairya Shah who took the catch.
Abdullah Sheikh was ecstatic,"Felt awesome to get the top Test batsmen out !!"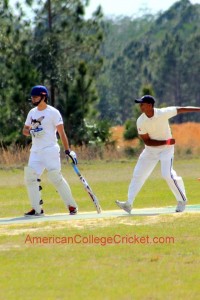 After another wicket, Jerin Chacko, the Embry Riddle captain requested Shiv to bat again. The Embry Riddle team wanted to make the most of this honor of getting to bowl against an all time great, still in his prime ! Shiv acquiesced and continued from 15 and went on to score 172 in 81 balls.
In response the Embry Riddle team scored 196/8 in 40 overs. This was the first 40 over game for the team. Dhairya Shah scored a 50. The match was played in whites but Shiv and the Embry team later donned Embry's colors for photos.
PHOTOS courtesy Harsh Gothwal & Embry Riddle CC.