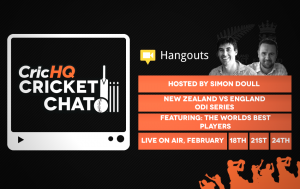 CricHQ, the world leaders in cricket technology is excited to announce the launch of its latest technology product – CricHQ TV. CricHQ's vision is to create the worlds largest social cricketing network which includes players, coaches, administrators and of course cricket fans.
CricHQ is a cricket company that is focused on revolutionising the sport of cricket through the use of technology. CricHQ's flagship product is the CricHQ scoring app.
American College Cricket adopted the scoring app in early 2012, for the National then later Regional Championships,and utilised it for the matches on TV Asia, contributing significantly to the
increasing popularity of the CricHQ scoring app in the USA. American College Cricket President Lloyd Jodah said, 'The app was exactly what we were looking for from the beginning, & its  great particularly for our TV Asia matches – including the wagon wheels and other tools. Having CricHQ's Americas Manager Jamie Lloyd working closely with us has been tremendous."  
The app, which can be installed on both IOS and Android devices captures not only the fundamental details such as runs, wickets and dot balls, but also batting and bowling wagon wheels and bowlers pitch maps.
CricHQ Chief Executive Simon Baker says, "never before has there been a technology platform for
cricket that has delivered such in-depth functionality to such a broad range of cricketing interests on a global scale."
Describing CricHQ TV Simon says, "This exclusive channel will follow the lives of pro cricketers as they play, train and travel. It will be a unique opportunity for fans to get close to the game's biggest stars."
In partnership with Google, CricHQ TV will feature a live internet broadcast aspect,
streaming  video footage to an audience of millions.  Content, uploaded by the players themselves, will be supported with statistics and data from CricHQ. Subscribers will also be able to upload their own video content. Broadcasts can be professionally produced or recorded directly from a smartphone or tablet and will be promoted through the CricHQ Social Network.
On the 18th of February CricHQ TV will launch with a series of Google Hangouts on Air titled "CricHQ Cricket Chat." These live streamed events will take place after each of the One Day Internationals between New Zealand and England and will be available to be viewed on crichq.com. These On Air events will give players involved in the series the unique opportunity interact with their biggest fans via the Google Hangout technology. CricHQ Cricket Chat will involve ex-Black Caps now a leading cricket commentator Simon Doull as host.
To learn more about the upcoming CricHQ Cricket Chat series of Google hangouts On Air just click here: http://crichq.me/hangout
 The CricHQ scoring app will be used for all matches of the 2013 American College Cricket National Cahmpionship March 13-17, and Jamie Lloyd will be a featured ball by ball commentator on TV Asia's broadcast in the USA & Canada.