Shiv 'Tiger' Chanderpaul, first Inductee in the American College Cricket Hall of Fame. Photo: Bill Fritsch Photography
Shiv Chanderpaul has been American College Cricket's Brand Ambassador from the beginning, late 2008 – the only active Test cricket player ever, to actively work on developing the game in the US and Canada.
For his efforts Chanderpaul became the First Inductee into the American College Cricket Hall of Fame, at a function in NYC, attended by Legends Brian Lara, Clive Lloyd, Courtney Walsh & Jimmy Adams.
Fresh on the heels of that accomplishment, the pioneering  Chanderpaul signed an endorsement deal with an American company – Mueller Sports Medicine !
The Mueller Sports Press Release said that Chanderpaul had joined "the Mueller Sports Medicine Team as Brand Ambassador."
Known for wearing 
Mueller No Glare® Glare Reducing Strips when he plays, which gives him his inimitable look & adds to his "Tiger" nickname, Chanderpaul continues to be at the top of his game at age 38, recently getting back to the # 1 Ranking.
Headquartered in Green Bay Packers territory Wisconsin, Mueller Sports Medicine said : The two year deal has Chanderpaul representing Mueller products through a variety of marketing efforts and appearances across all media. In addition, he has the Mueller Logo on the back of his cricket bat during play.

No Glare® Strips are the world's original glare-reducing strips with twice the effectiveness as paste. Designed not to smear or sweat off, the pressure sensitive strips are easily identified by their unique kidney-bean shape. They are also available in assorted shapes as well as Premium No Glare® strips which fit across the athletes nose.

"Shiv is an inspirational athlete who has achieved great success both as a competitor and as an individual," said Brett Mueller, President of Mueller Sports Medicine, said. "Shiv will be a welcome addition to the Mueller Sports Medicine team."
American College Cricket founder & President Lloyd Jodah said, "Shiv exhibits so many of the qualities that would attract major brands like Mueller, and his role  with American College Cricket gives him a great base across the USA and Canada."
Chanderpaul is currently playing for Guyana in the Caribbean T20, topped the West Indies batting averages in their recently concluded Series, and just signed a 2 year contract to play for Derbyshire in English County Cricket. He is one of the Top 10 all time Tests run scorers.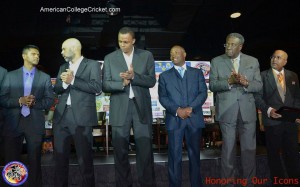 L-R Shiv Chanderpaul, Jimmy Adams, Courtney Walsh, Brian Lara, Clive Lloyd & American College Cricket President Lloyd Jodah, in NYC