The 2012 John Bart King Award winner is Nick Mancino of the University of Pennsylvania ! Nick is a Veteran, having served in the US military for nearly 7 years. He then spent over 4 years as a "private security specialist" before beginning his college, then cricket careers.
Though reticent about it, with his military background, its no surprise Nick took on the challenge of learning cricket, so we asked him; what sparked it ?
"I happened to come across a cricket match between India and Pakistan on satellite TV, and the rivalry was so intense ! I had to try to figure out what was going on, and how the game is played."
Nick grew up and went to high school in Ohio before joining the military to serve our country, then later settling in south Florida. Enrolling at the University of Pennsylvania, he got his chance with the Cricket Club, as not only are the students passionately inclined to teach the game they love, they are encouraged to do so by American College Cricket.
Nick started out with batting and fielding – specifically wicket keeping, which he has in common with 2010 John Bart King winner Ian Carlin, who made the Jan 31 pre-Super Bowl issue of Sports Illustrated.
Nick said, "Gavish Sharma and Jay Dave have consistently helped with my batting, and Udit Mathur is working with me on developing my wicketkeeping." 
Mancino says his on field accomplishments are modest, but he's made the team for 6 matches fielding in different positions and taking 1 catch as a wicket keeper. His highest score is 22 in 3 at bats. He was in the University of Pennsylvania squad for the 2012 Nationals, the American College Cricket Spring Break Championship in Florida, and the 2012 Mid Atlantic regional.
The University of Pennsylvania is a key part of USA cricket history, its first cricket team was started in 1842 and was the second college sports team in the US. John Bart King played and toured with,and against many UPenn students and alumni  in his career.
Who is Nick's favorite cricketer ? "Marlon Samuels. I watched his entire at-bat when he scored 260 for West Indies against Bangladesh."
Plans for the future ? "I'm undecided about my major, but cricket-wise my goal is to be an all rounder and hold a place in the UPenn XI. Right now I continue to work on the fundamentals and play every chance I get.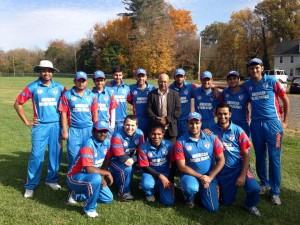 Thank you for this Award, its a testament to my teammates taking me under their wings and teaching me how to play . 
American College Cricket is doing a wonderful job of developing and promoting cricket in the US. I thank you for all the hard work that goes into it, and the opportunities it gives us. American College Cricket will continue to advance the awareness and popularity of the game in the USA."
Nick Mancino is a US military veteran, a University of Pennsylvania student and an American College Cricket player – an ideal recipient of the John Bart King Award.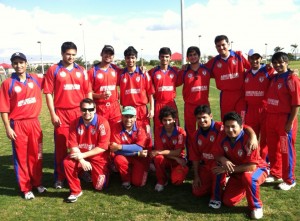 About the JOHN BART KING AWARD
Born Oct 19, 1873 John Bart King is America's greatest cricketer ever. He played First Class cricket from 1893 to 1912 (for the Philadelphians) & took 415 wickets in 65 matches at an average of 15.66. On tour, he topped the English First Class Bowling averages in 1908, taking 87 wickets at 11.01 in only 10 matches. 
Bart King King bowled fast, was a pioneer of swing and is regarded as one of the best fast bowlers ever, from any country. He also scored 113* & 8 fifties in First Class cricket. In 1905 he scored the highest score ever in USA & Canada, 315 at the Germantown Cricket Club, then in 1906 he smashed 344* against Merion Cricket Club. Both Clubs still exist.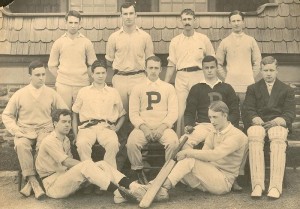 The Award winner is chosen annually from the American College Cricket players who are "not from a cricket background originally" (meaning the family is not from a major cricket-playing country), but is judged to have contributed the most on and off the field.
The 2010 winner, Ian Carlin (College of Wooster) was in Sports Illustrated's Jan 31,2010 issue, and for 2011, Darren Stortz (University of Iowa) won.
Originally no winner was named for 2009 as we were awaiting permission to use the "John Bart King" name so later Curt Sonnet (George Washington U) was retroactively named a John Bart King winner for 2009.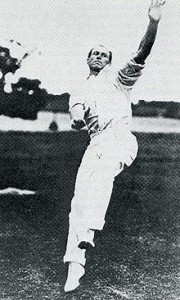 PHOTOS :
1 – UPenn Cricket in 1842
2 – UPenn Cricket in Oct 2012
2 – UPenn Cricket at the Nationals in Florida
4 – UPenn Cricket in 1904
5 – John Bart King in 1904, 
   (support Wikipedia Commons)
Twitter : @CollegeCricketU