Lots of support was shown on our Facebook fanpage by USF Bulls, Arkansas State Red Wolves & Memphis Tigers fans for the 3 nominees for Top Newcomer, but ultimately Murali Krishna Ankaraju of the University of Memphis is the Top Newcomer of 2012 for American College Cricket. 
Murali smashed 131 off 65 balls with 6 fours & 10 sixes – a strike rate of 201.5. The highest score of the 5 centuries made this season in college cricket (10 since 2010). He also made 82 off 40 balls with 4 fours and 6 sixes – a strike rate of 205, and 20 and 3 wickets for 9 runs in the Finals vs the Arkansas State Red Wolves. 
Murali is 
pursuing
his
MS
in C
omputer Science
at the 
University of Memphis
after doing his undergrad in Hyderabad. He said he has played "serious cricket since 12 and fielding was always my passion, later I developed my skills of batting & bowling.
It

's an

immense pleasure to be part of American College Cricket. To the passionate and crazy cricket lovers like us it

 a great 

pleasure to see cricket being a huge part of college sport. It provides us the great opportunity and platform to get recognized and prove ourselves ag

ainst other young players.
"I have never been to any coaching academies or training camps…..earlier I played hard tennis ball cricket and later adapted to play season ball.

I represented my high school in Hyderabad inter school tournaments and was selected for the Hyderabad Under 16 squad.

I had denied that opportunity due to pressure from my family to concentrate more on my studies. Later I play

ed

 for

Osmania 

University. 
After undergrad,I played for Citibank in the Corporate League against some really good players and got to play at the two international venues Lal Bahadur Cricket Stadium and Rajiv Gandhi International

S

tadium

 and i

n

grounds

 like Gymkhana and HCA where team Hyderabad plays its most of the Ranji Trophy matches.

 When I moved here I began playing in the Arkansas Tennessee Cricket League.
Memphis has played many tape ball tournaments since 2009

 against teams like Auburn

, b

ut the American College Cricket Spring Break Championship will be a great opportunity to prove ourselves with the season ball."
Murali's brother, Santhosh, is the President of the Memphis Tigers Cricket Club.
The other 2 nominees were: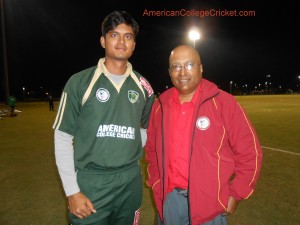 Krunal Bhange USF
In the American College Cricket South East Championship Krunal smashed 127* against Embry Riddle University,smashing 14 fours & 7 sixes in 73 balls. He followed it up with 48 against FIU, & 10 against the UF Gators.
The 6′ 2′ Krunal Bhange is an athletic 170 lbs and bears a resemblance to Tom Brady. 25 years old Krunal did his undergrad at College of Engineering Pune, Maharasthra and played competitively for Pune district before coming to USF for his MS in Management Information Systems.
Krunal said "I am particularly impressed to see the quality of the cricket played here. With such talented players around, there's only a bright future ahead for cricket in USA."
Divya Patel (ASU Red Wolves) – as an all rounder and Captain, Divya shouldered the heavy responsibilities of developing his new team, and getting them to the 2012 Nationals. Then, wanting to play in a Regional, once he heard 2 new colleges nearby had joined American College Cricket, he worked hard to organize the first South Central Regional.
Under Divya's leadership, Arkansas State won the South Central Regional. Patel's on field performances included 70* vs Memphis, and 2 for 27.
Most importantly, its student-leaders like Divya Patel who make the American College Cricket movement successful. Apart from being a candidate for Top Newcomer
Divya was named a 2012 Player of the Year
, and is also a candidate for Top Club President, & Arkansas State Cricket is a nominee for Top New Club !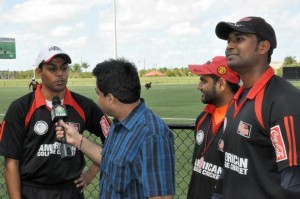 Murali Ankaraju (Memphis) & Krunal Bhange (USF) were not eligible for Players of the Year, as they did not play in the Nationals, the American College Cricket Spring Break Championship.