Here are the College Players of the Year 2012, the new, plus a repeat winner, in a year sponsored by Coca Cola !
Abdullah Ashgar Sheikh (USF) – for the past month Abdullah has had a great profile pic – the American College Cricket logo !
Sheikh had a near- MVP performance in the 2012 Nationals. Bowling fast,he took 9 wickets for 115 runs. He scored 268 runs @ 47 runs average, with 3 fifties and a highest score of 88. He also took 5 catches. No wonder he got lots of votes from USF Bulls fans.
 At the 2012 South East Regionals his top performances were 21*, 38* & 3 for 9, & 2 for 24.
But it was his promotion of American College Cricket that gave Abdullah the edge, and made him THE College Player of the Year among the outstanding young athletes !
Over Christmas Sheikh got the privilege of playing with Shiv Chanderpaul, putting on a 80 run partnership in a friendly match.
—————————————————————————–
Divya Patel (ASU Red Wolves) – as an all rounder and Captain, Divya shouldered the heavy responsibilities of developing his new team, and getting them to the 2012 Nationals. Then, wanting to play in a Regional, once he heard 2 new colleges nearby had joined American College Cricket, he worked hard to organize the first South Central Regional.
Under Divya's leadership, Arkansas State won the South Central Regional. Patel's on field performances included 70* vs Memphis, and 2 for 27.
Divya was also a top vote getter but most importantly, its student-leaders like Divya Patel who make the American College Cricket movement successful. He is also a candidate for Top Newcomer, Top Club President, & Arkansas State Cricket is a nominee for Top New Club !
—————————————————————————————
Anurag Verma (Texas A & M) broke onto the scene at the 2012 South West Championship as an exciting left handed stroke player who made 44, 67 & 54 with glorious strokes and was a big contributor to Texas A & M winning the first South West Championship. The entire Texas A & M club did a wonderful job of organizing the South West Regional, on their recently acquired cricket field.
At the 2012 Nationals, his team, Texas A & M extended their unbeaten streak to 11 matches as Verma helped his team even when he did not score big (e.g a 60 run opening partnership of which he scored 20).  He also bowled and had 2 for 25 as his best. In the Semis against York College he was run out for 12 as the Aggies lost.
Additionally Anurag's Aggies team mates & supporters set our Facebook Page afire early with votes for 2012 Player of the Year, and apparently his play impressed someone else, as he got married !
————————————————-
 Mohammad Suleman (York College) is one of American College Cricket 's biggest promoters on Facebook, posting articles to his personal FB profile, as well as the York College group.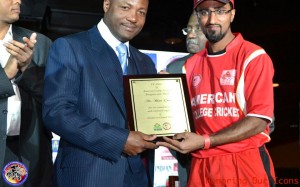 In 2010, together with Lloyd Jodah,he started the York College club & bowled medium pace,then came back in 2012 in a supporting role, and as a spin bowler. Here are his astonishing bowling stats in 2012 :
Nationals – 4 for 18 vs Houston Cougars, 3 for 12 vs Auburn, 2 for 26 vs NYU-Poly, 3 for 16 vs Cleveland State, 2 for 10 vs Texas A & M, 2 for 23 vs USF
North East Regionals –  2 for 21 vs Princeton, 4 for 14 vs Cornell, 4 for 7 vs Harvard, 1 for 23 vs Rutgers.
His 2 wickets in the Finals, including  that of Championship MVP Sai Ramesh, effectively put the brakes on what seemed like a certain win for USF, earning Suleman the Finals MVP Award.
His consistent promotion of American College Cricket on Facebook earned him the opportunity to meet Shiv Chanderpaul, Brian Lara, Clive Lloyd,Courtney Walsh and Jimmy Adams and he presented the American College Cricket/TV Asia Award to Brian Lara !
—————————————————————————————–
Kartik Radhakrishnan (Virginia Tech) is a batsman and off spinner  on the Hokies team that participated in their first National Championship in March. Kartick had a number of key allround performances for the team in 2012:  2 for 19 vs Texas Tech, 21 and 2 for 13 vs Penn State and 50* and 2 for 19 vs UMBC.
Most importantly the work of Kartik and the Club enabled Kartik to break new ground for cricket by being selected as Virginia Tech Male Athlete of the Year 2011 (out of 31 VT Sports Clubs). The VT Cricket Club also is one of the few college clubs with its own cricket field.
At first no votes came in for Kartik, but his supporters later voted in large numbers to boost his candidacy !
—————————————————————————————-
Haider Ali (Rutgers) became the first cricket player to hit a century on TV in the US & Canada smashing 119 in 47 balls at a strike rate of 253.19, hitting 11 sixes & 9 fours against Boston University ! He followed it up with 53 in 36 balls vs York College in the Finals – both innings shown on TV Asia in all their splendor ! Ali made 0 & 71 in the preliminary matches.
At the Spring Break Championship he scored 58, 54, 35 and 40 ! In 8 innings in 2012 he scored 430 runs, average 53.75, making  Haider the  top scorer in college cricket in 2012.
Disappointingly, though a favorite of his team, Haider got practically NO votes from Rutgers players and fans, but his batting was so outstanding that he had to be a College Player of the Year !
—————————————————————————————–
Harsh Desai (Ryerson University) – the Ryerson team included a 6'5 (Warren Rajroop) and a 6'3 (Rayyan Pathan) fast bowlers but it was Harsh Desai, at around 5'9 who bowled some superb bouncers, that resulted in wickets ! Not pitched that short, & moving into the chest, they were very difficult to play & Desai was the MVP of that North East tournament, taking 17 wickets !
At the 2012 American College Cricket Spring Break Championship Harsh took 2 wickets for 7 runs, 3 for 6 runs and 2 for 10. In the Quarter Finals when he did not get wickets, Ryerson lost.
A tremendous number of his supporters voted for Harsh to make him a 2012 College Player of the Year.
————————————————————————————–
Sai Ramesh (USF)  was the MVP at the 2012 American College Cricket Spring Break Championship. In the Finals Ramesh was leading the USF charge for victory when he was out lbw – the professional way Ramesh took the decision (a correct one) that ended USF's chances of winning the Chanderpaul Trophy, is as a testament to how the game should be played.
Here are his stats from March – he was not able to play in Nov because of his MBA dissertation:
45  &  2 for 12 , 64* & 3 for 23, 46 & 4 for 9 , 20 & 0 for 9,42 & 0 for 21, 42 &  2 for 34 !
Bowling off spin, took 11 wickets for 108 runs. He scored 259 runs @ 51.8 runs average. Sai took 7 catches in front of and behind the wicket, and had 2 run outs !
Someone else also thought he was an MVP – he got married recently !
———————————————————————————–
For the selection of the Players of the Year we added a new feature – fans were able to vote for the nominees (on the AmericanCollegeCricket.com Facebook Page) and this made even it more exciting as supporters of some players voted in large numbers !
As in ALL American College Cricket Awards promotion of American College Cricket (especially on Facebook & Twitter) is VERY important.
The intent is to have about 5 new, plus repeat College Players of the Year. Points accumulated plus voting made it too close to eliminate any of the Players chosen however, and we felt it was more important to honor the Players than to fit an arbitrary number.