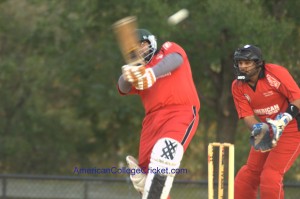 Last Saturday TV Asia showed the 9th TV game of the American College Cricket season,sponsored by Coca Cola, at 7pm – Rutgers University vs York College ! 
So you start your innnings with a 88 run partnership in 8.3 overs and at 127 for 1 in 12.5 overs your runs per over (RPO) is 10 with Haider Ali, who scored 119 in his previous innings, on 53. Life seems great, as your team is doing this on TV Asia, and being seen all over the US & Canada !
Nisarg Choksi (Rutgers) took successive 6s off Yasin Khan (York)'s opening over, and cleared the fence 5 times, plus 3 fours for 48 in 32 balls. Flicks, cover drives, pulls lighted up Gateway Field as Choksi made the normally excellent York bowling and fielding look as futile.
Word went out to Santa to avoid flying over the Gateway area as Rudolph & the Reindeer were in danger of being hit by cricket balls !
When Haider Ali got the strike he too was Terminator-like, with 4 sixes & 4 fours in his 53, getting out at 127. It would have been extraordinary for the other Rutgers batsmen to keep up the strike-rate and they didn't – getting to 176 for 7 in their 20 overs. A strong total, and a possible match-winning one !   
An excellent first over by Udit Patel, found some edges and Rutgers gave danger man Akeen Dodson a Christmas gift by dropping him – a crucial error ! Dodson, seemingly fueled by Powerade, made Rutgers pay by clearing the fence for 6 sixes in making 47 in 27 balls with 1 four ! His opening partnership of 89 with Shemas Rehman was marginally faster, at 8 overs than Rutgers' 88 in 8.3 !
Rehman, Santa-like in his red uniform, himself hit the ball with reindeer power for his 58 with 6 fours, then smashed his first of two 6s to bring up his 50 ! York's 2nd wicket fell at 121 off 12.2, practically identical to Rutgers 127 for 2 off 12.5 !
Though Karan Ganesh got 31, wickets fell as Al Lalbhai struck 3 times,getting 3 for 29, and at 159 for 6 off 16.5 it was a nail-biting finish ! They had to hold the celebratory Egg Nog – York needed 19 in 18 balls !  
However Hayat Sikander cracked 3 sixes to crush the hopes of Rutgers that they could upset the national Champions and Santa was bringing the Deryck Jodah Trophy to York College !
Once again York College had shown they could find a way to win, whilst Rutgers played so well, and came so close they could feel great about their chances at the National Championship in March ! Their performance also rocketed them up the Santa's List (National Rankings) !
The best commentary of the season so far was provided by Jamie Paul Lloyd (of Crichq & New Zealand) and Lloyd Jodah.
SCORECARD & other stats :
Christmas Game: Saturday Dec 22 at 7 pm : Florida International University (FIU)  vs University of South Florida !
                                       Commentators : David Sentance & Lloyd Jodah