Shiv Chanderpaul,Jimmy Adams, Courtney Walsh, Brian Lara, Clive Lloyd, Lloyd Jodah, Suleman Mohammad (York College- National Champions)
Saturday night in NYC, a truly momentous occasion took place as an unprecedented event in the USA took place- Brian Lara and Shiv Chanderpaul, with 3 other cricket greats, Clive Lloyd, Courtney Walsh and Jimmy Adams were celebrated for the incredible joy they have given us over the years at an awards party organized by Angels Caribbean Entertainment Co. (Vinod & Geeta Bisram) and RH Entertainment (Romeo Hitlall) at Resorts World in NYC !
TV Asia covered the event as the legends were treated like the stars they are,in the lush surroundings of Resorts World NYC and honored for their careers.Fans of the game were given the opportunity to get autographs, photos and chat with their idols – it was a celebration of cricket stars…..for the fans not just cricketers !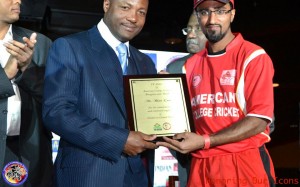 With music by the Angels Caribbean Band and comedy by Mark Trinidad, a party ambiance pervaded as the stars were featured in retrospective film clips and presented with their Awards onstage. All of them, Clive Lloyd, Jimmy Adams,Courtney Walsh, Brian Lara and Shiv Chanderpaul are former Captains of the West Indies team…..Clive Lloyd being one of the most successful Captains in history leading the highly successful team featured in the movie "Fire in Bablyon".  
Brian Lara received an Award from American College Cricket and TV Asia for his amazing career, and for his "support for cricket in the USA" by making this appearance. Not surprisingly Lara was asked if he had any regrets about retiring when he did, and he said he had none. When asked about Tendulkar, Lara said Sachin "is my friend, and I hope people will allow him to decide when the time is right".
National Champions York College's Mohammad Suleman presented the TV Asia/American College Cricket Award to Brian Lara, and afterward said, "I couldn't believe I was on the stage with Brian Lara, much less shaking his hand and presenting to him an Award ! It was a thrill of my life !" Suleman, together with American College Cricket President Lloyd Jodah, started the York College team in 2010.
Then it was time to make a surprise announcement, & Award ! The previous Thursday at a Press Conference Shiv Chanderpaul had announced the launch of the College Cricket Hall of Fame. Tonight, to Shiv's surprise it was announced that, 
  "
In recognition of his unique & unprecedented role in the development of cricket TV Asia & American College Cricket  honors Shivnarine Chanderpaul American College Cricket Patron,as The First Inductee in the American College Cricket Hall of Fame 2012″.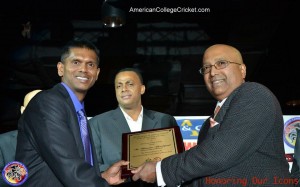 Lloyd Jodah explained, "Shiv Chanderpaul has been our Patron and Brand Ambassador since December 2008, and since college-level is the grass roots of all major sports in the US, Shiv has been tremendously encouraging of the game's development."
Chanderpaul told TV Asia, "I'm honored……I look forward to when the first young college cricketers in USA and Canada are inducted into the Hall of Fame."   
The Hall of Fame will honor college cricket players for their on and off the field contribution to American College Cricket in the USA and Canada. The first class of nominees will be named shortly.