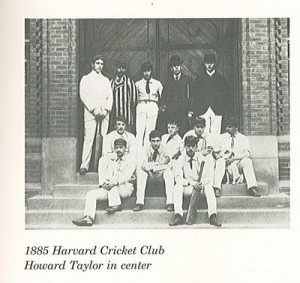 Cricket has been played at Harvard, off and on,for over 200 years and an official club was begun in 1862. Restarted in 2011, Harvard Cricket will this Sat play vs National Champions York College on TV ! its the Semi Finals of the American College Cricket North East Championship, for the Deryk Jodah Trophy on TV Asia at 7 pm on Saturday !
 York College Cricket club,on the other hand,was begun in 2010 and that year reached the Finals of the National Championship, then this year York College won the Chanderapul Trophy. Its strong batting features Akeem Dodson, Karan Ganesh, Bilal Shahid and Abbas Khizer whilst Shahid, Yaseen Khan and Suleman Mohammed head the bowling line up.
Two Harvard Law School grads, President Obama, and Mitt Romney competed for the Presidency of the United States. Of any university, Harvard has had the most alumni, eight including President Obama, become President. 
Many foreign heads of state attended Harvard, including cricket countries Pakistan's Benazir Bhutto and Jamaica's Edward Seaga.
Harvard grad Bill Gates, once the world's richest man,is possibly the world's greatest humanitarian. Facebook's Mark Zuckerberg attended Harvard as did other recent newsmakers, NY Knicks Jeremy Lin & Buffalo Bills QB Ryan Fitzpatrick.
Tata Group Chairman Ratan Tata graduated from the Business School in 1975.
These cricket players have a chance to establish a name as the best cricketer from Harvard in modern times ! So watch TV Asia, Sat at 7pm for Harvard vs York College !