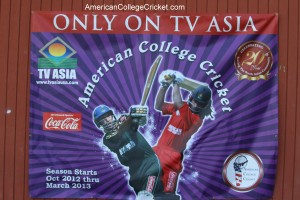 It's cricket season on TV in USA & Canada ! Watch American College Cricket games every Sat on TV Asia at 7 pm in the US & Canada.
American College Cricket was the first to webstream domestic cricket in March 2010, then in Oct 2011 was the first to put the game on TV in the US & Canada, with TV Asia.
Registration has begun for the Nationals, the 2013 American College Cricket Spring Break Championship, taking place March 13 -17 in Ft Lauderdale (March 12 is fro practice).Contact Lloyd : Dogevpr2@aim.com to register.
Dec 2012 Power Rankings
1      York College – Cardinals
2      University of Florida – Gators
3      Texas A & M – Aggies
4      University of South Florida – Bulls
5      Rutgers – Scarlet Knights
6      Ohio State University – Buckeyes
7      University of Maryland Baltimore County–Retrievers
8      Boston University – Terriers
9      Arkansas State U – Red Wolves
10    Iowa State University – Cyclones
11    Montgomery College – Raptors
12   Virginia Tech – Hokies
13   York University – Lions
14   University of Pennsylvania – Quakers
15   Harvard – Crimson
16   Auburn – Tigers
17   Penn State – Nittany Lions
18   Texas Tech – Red Raiders
19   University of Buffalo – Bulls
20   Florida International U – Panthers  
21   Carnegie Mellon – Tartans
22   Ryerson University – Rams
23   Embry Riddle Aeronautical – Eagles
24  NYU-Polytechnic – Fighting Blue Jays
25   University of Houston Clearlake – Hawks
26   LIU-Brooklyn – Blackbirds
27   NJ Institute of Technology – Highlanders
28   University of Iowa – Hawkeyes
29   George Washington U – Colonials
30   University of Southern Cal – Trojans
31   Thunderbird School of Global Management – T-Birds
32   Cornell University – Big Red
33   University of Alabama – Crimson Tide
Power Rankings are based on :
1 – Off the Field Performance – such as:
   -promotion of AmericanCollegeCricket.com on Facebook, Twitter etc;
   -elevation of your Club & American College Cricket's profile in school media & external media.
   -motivating increased support from your school in the form of finance,practice facilities, cricket field etc
2 -On the Field Performance :
– most recent, 2012 Regional championship participation & performance
– 2012 National Championship participation & performance
– 2012 National Championship participation & performance
Teams must play in at least 1 American College Cricket tournament to be eligible. American College Cricket now includes over 60 colleges in the US & Canada. We have many new teams not yet in the top 33 : Princeton, University of Memphis, Northeastern, University of Arkansas, University of South Alabama, and a number of others to be announced.
Teams can improve their rankings, even when not playing."Power Rankings" are heavily affected by Off the field factors – what your club members do to raise the profile of American College Cricket. Here are examples so new clubs get a clear picture of what to do:
FIU's Sagar Reddy & Santhosh Reddy are strong candidates (with York College's Mohammed Suleman) to win the 2012 Social Media Promotion Award – they post every AmericanCollegeCricket.com article on their Facebook profile ! This helped to vault FIU Panthers up to # 21 !
Boston University featured the headline "Cricket, the Great American Pastime !" & a moving graphic on the University's Homepage that was mind-blowing !
As in other college sports,our teams must focus on playing other college teams,NOT NON-college teams,nor in non-college tournaments. 
Negative actions = Negative Rankings.