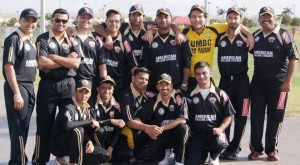 With 2 high powered batting line ups the Mid Atlantic Finals between UMBC and Montgomery College shaped up to be a run fest at the British Officers' Cricket Club in Pennsylvania, aglow in hues of autmn gold, rust,browns and red. The Finals was the 6th match of the season on TV Asia .
Adil Bhatti MC top scorer in 3 innings including 80* vs LIU-Brooklyn, and Eraj Abidi 77 vs Virginia Tech were leading contenders for tournament MVP. Montgomery College was 2009 National Champions & 2011 National Finalist, whilst UMBC was a 2010 Final Four.
But just like a New England Patriots vs Green Bay Packers game turning into a defensive battle, so it was the bowling and fielding played a huge role in this one.
Montgomery batted first and got off to a good start when alum Sadiq Naseer,12 and Wahab Syed,27 put on 33 in 5.4 overs. The UMBC Captain Rikin Parikh took the break through, and a run out made MC 49 for 4 after 10.4 overs.
But with Adil Bhatti at the crease,hope was alive in the Montgomery camp especially when Bhatti confidently hit a 6 over long on. Then Sam Lalzare struck with a direct throw to stumps, and the slow motion replay confirmed that a diving Bhatti just missed getting in, and was run out for 18 ! MC 80 for 5 in 14.3 !  At the end of their 20 overs the Raptors managed 106 for 9.
Set 107 at 5.3 runs per over UMBC seemed a foregone winner, and left handed Anand Patel stroked the ball well for his 21 with 2 fours and 1 six. Two quick wickets by MC captain Udit Sehgal made it 38 for 2, and gave the Raptors some hope especially with some excelelnt fielding. But Raghav Bhardwaj 27*, and Digit Samant, 37*  got the 107 required in 14.5 overs at 7.21 rpo. Samant struck 3 fours & 2 sixes, Bhardwaj 1 four & 2 sixes.
The University of Maryland-Baltimore County (UMBC) Retreivers, led by captain Rikin Parikh got their first title and became the 2012 Mid Atlantic Regional Champion !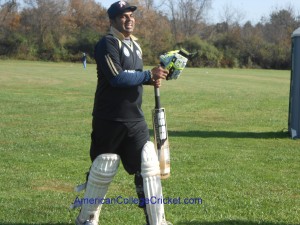 FINALS MVP: Sam Lalzare (UMBC) – 3 wickets for 10 runs, & the crucial run out of Adil Bhatti ! 
Mid Atlantic Championship MVP : Adil Bhatti (Montgomery)
Ernie Precious, Mike Thomas, Merry Farmer ,Klaus Bondar and the British Officers' Cricket Club had provided an unprecedented level of support, and made the college players feel at home.The Umpires were excellent and of a high standard.  .
Every Saturday at 7 pm, American College Cricket matches are shown on TV Asia – a season of cricket here in the USA & Canada !
Commentary was provided by Jamie Lloyd of CricHQ & New Zealand, and Lloyd Jodah.
SCORECARD: http://www.crichq.com/matches/21292