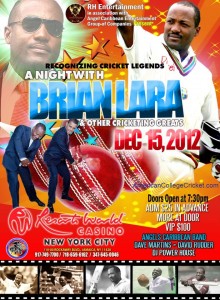 "A night with Brian Lara & Shiv Chanderpaul" will take place in Queens, New York City on Dec 15, 2012 at the Resorts World Casino. Details for tickets can be seen on the Poster. Chanderpaul was most recently confirmed – new posters will be done.
Brian Lara & Shiv Chanderpaul have been confirmed for this exclusive evening which will honor them as well as Courtney Walsh, Jimmie Adams and a number of other cricket stars to be announced later.
RH Entertainment's Romeo Hitlall met with Lloyd Jodah, American College Cricket President and confirmed details. American College Cricket players will be involved , including the Captain of National Champions York College, Abbas Khizer.  This week Hitlall and Jodah will visit TV Asia to speak about the event. 
Lara & Chanderpaul will attend a Press Conference on Dec 13 then on Saturday Dec 15, the main event will begin at 8.30 pm,doors open at 7.30.
Schedule for Sat Dec 15  – 'A night with Brian Lara' :
  8.30 to 9.30      –   Brian Lara, Chanderpaul,Courtney Walsh, Jimmie Adams photo-op and autograph signing
10.15 t0 10.30    –  Lara & Chanderpaul accept awards and make brief acceptance speeches.
10.35 to 11.00    –   Sit down interview for Q n A session with Lara, Chanderpaul, Walsh & Adams
11.05 to 11.45    –    Photo-op and autograph signing
11.45  to 12.30  –     Free form interaction with fans
 after 12.30 pm –     Party to music by Angels Caribbean Band
Known as the Prince, Brian Lara is the only batsman to have a century, double century, triple century, quadruple century and a quintuple century in first-class cricket. Courtney Walsh took 519 Test wickets, 2nd highest all time among bowlers.
Shiv Chanderpaul is the Patron of American College Cricket, the National Championship is played for the Chanderpaul Trophy.
You can watch American College Cricket matches (ball by ball) on TV Asia every Sat at 7 pm. TV Asia is available on all major cable systems in the USA & Canada and on Dish Network.