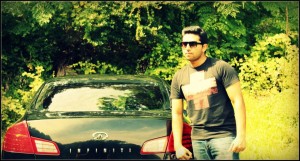 A Century on Test debut has always been a coveted accomplishment.
For cricket in America there is a century on debut record that can never be beaten…..who was the first batsman to score a century on their debut on TV in the US & Canada….or who was the first batsman to score a century on TV in the US & Canada EVER ? 
The answer will forever be Haider Ali of Rutgers University ! Just days after his 23rd birthday on Oct 7, Haider smashed 119 in 47 balls at a strike rate of 253.19, hitting 11 sixes & 9 fours aginst Boston University ! When he got out the team were 165 for 3 in the Semis of the 2012 American College Cricket North East Championship, sponsored by Coca Cola !
He followed it up with 53 in 36 balls vs York College in the Finals – both innings to be seen on TV Asia in all their glory ! Ali made 0 & 71 in the preliminary matches.
Haider played tape ball cricket in Lahore,Pakistan and started "hard or season" ball aged 15 when he also became captain of his high school team (rock star Rod Stewart also captained his high school cricket team).  He said he played at 'Model Town Greens cricket club, where I practised regularly with Mohammad Yusuf, Salman Butt, Abdul Razzaq, Shoaib Akter and Kamran Akmal'.
Haider attended Stevens Institute of Technology then transfered to Rutgers where he will graduate in 2013 with a degree in Engineering. He played in the 2011 North East Regionals and the 2012 Amercian College Cricket Spring Championship where he emerged as another young star,scoring 58, 54, 35 and 40 and giving Rutgers great starts with his Captain Nisarg Choksi. Haider is ecstatic to be a member of American College Cricket:
'American College Cricket is doing a great job promoting cricket in the United States – its a great platform for the development of the game, just like other sports in America. Credit goes to Mr Jodah for giving 100% for the development of cricket, and for believing in us !
It felt great to see Rutgers media writing about Hardik Jogani (then Club President) and American College Cricket, and to have my friends say 'I saw your name in the Daily Targum" ! So overall it feels great representing my college – it makes cricket feel American !'
Rutgers under captain Choksi played really well against National Champion York College at the North East Regionals – what do you think of your team's performance ?
'It was really disappointing to come so close and lose. Frankly after putting up 176 we felt really confident of defending that total. Though we lost the team showed a lot of character throughout the Regionals, and this will give us a lot of confidence for the Nationals in March 2013.'