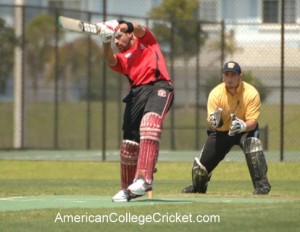 In March 2010 York University with Raza Rehman, won the American College Cricket Spring Break Championship on the first webstream ever of cricket in the US or Canada. This past week at the same CBRP Cricket Stadium Rehman was effectively Canada's, & the Auty Cup Tournament's MVP !
Raza Rehman made 88 & 54* in the 2 day match, for Canada vs USA. He then followed it up by taking 5 wickets for 27 runs in 10 overs in the ODI, & scored a duck. He made 7 in a T20 match, followed by 28* in the 2nd 20 when he took 2 wickets for 21 runs.
The American College Cricket Semis & Finals played on March 21, 2010 were the first time in history that domestic cricket in the USA & Canada had been webstreamed – Raza Rehman played in the first webstream match, for York University vs UMBC and was thrust in the limelight in Canada & worldwide, including Canada's top paper "Globe & Mail" & York University media.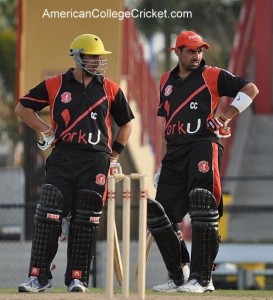 He then played in the Finals and made 35, to follow Khusroo Wadia's, 54 & Jai Patel, 48 opening partnership that helped York University win the Chanderpaul Trophy. The matches was even shown on the Square One Mall Jumbotrons in Toronto to thousands.
Rehman came back in 2011 as York University's Captain but was on tour with Canada during the 2012 American College Cricket Spring Break Championship.