The colors of autumn have never been seen on a cricket telecast like they were in this Semi Final of the American College Cricket Mid Atlantic Championship sponsored by Coca Cola on TV Asia.
The smorgasbord of hues of yellows,orange & brown needed a Neville Cardus to do them justice – a Monet painting never looked better as the TV Asia cameras captured the Montgomery College and LIU Brooklyn battle to see who would face UMBC for the title.
Montgomery College batted first at the British Officers Cricket Club and lost an early wicket before alum Sadiq Naseer,14 and Syed,32 steadied the ship taking the score to 43 for 2.  The USA's first modern cricket star, Adil Bhatti, then strode to the wicket and with his usual confident approach took control.
Bhatti and longtime cricket mate Suchit Laheri put on an unbroken 89 run partnership as Bhatti delighted with strokes that matched the resplendent surroundings. All the slow outfield could do was prevent Bhatti from getting a century as he unveiled his panoploy of shots, hitting 4 fours and 6 mammoth sixes in 80* in 42 balls. Laheri lofted 2 sixes at the end to finish on 29*. The 2 players played in the first Montgomery matches back in March 2009 and so this partnership had special meaning.
The Montgomery Raptors innings ended at 175 for 3 and the newly put together team of the LIU Brooklyn Blackbirds faced a real challenge.
An astonishing spell by Suchit Laheri of 3 wickets for 5 runs in 3 overs, and a wicket at the other end by Adil Bahtti made the Blackbirds 19 for 4 when Mayo got LIU Brooklyn's Captain Devarshetty and it was 20 for 5. Swaroop, 19 Aditya 16 Husui 15* and Patha,11 wagged the tail to take the total to 90 for in LIU's 20 overs and Montgomery won by 83 runs to get through to the Finals !
Next Sat at 7pm on TV Asia : 2009 National  Cahmpion & 2011 National Finalist Montgomery College Raptors vs 2010
                             Semi Finalist UMBC !
Adil Bhatti was the Game MVP.
SCORECARD
http://www.crichq.com/matches/21281/print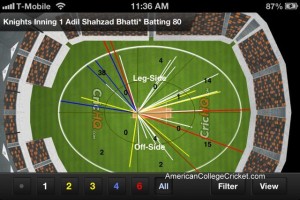 CLICK on Photos to see whole