He's become America's first cricket star since John Bart King 100 years ago – stepping onto the stage by leading Montgomery College to the first national Championship in March 2009.
Since then Bhatti has made it into the New York Times, the Front page of the Sunday Washington Post,International Herald Tribune, Voice of America News, Sun Sentinel and his college and local media, and lots of Indian & Pakistani media after leading his team to the first national Championship.
Adil's leadership,batting & bowling have played major roles in Montgomery College's climb to become America's most well-known cricket team. He has 7 fifties in American College Cricket, including 60* against the University of the West Indies in 2010.
Bhatti has played on American College Cricket's pioneering webstreams, now he plays on TV for the first time ! 
This Saturday at 7 pm on TV Asia Bhatti  and 2009 Vice Captain Sadiq Naseer return to the Montgomery College team,filled with new players as they take on Long Island University-Brooklyn Blackbirds in the 2nd Semi Finals of the Mid Atlantic Championship.
LIU-Brooklyn is led by Sandeep Devarshetty who himself has garnered a tremendous amount of publicity in a short time : Sandeep has been  on a float with Anil Kumble at the India Day Parade, met NYPD Commissioner Ray Kelly,and featured in articles in the New York Times and his college media !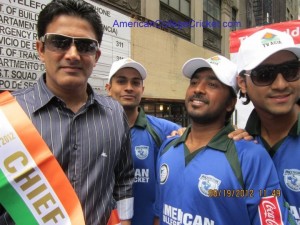 Watch 2009 National Champions & 2011 National Finalist Montgomery College Rapters vs LIU-Brooklyn Blackbirds Saturday Nov 10, at 7 pm on TV Asia ball by ball. 
Commentary by Jamie Lloyd of CricHQ & New Zealand, Lloyd Jodah, Austin Aluvathingal & more.