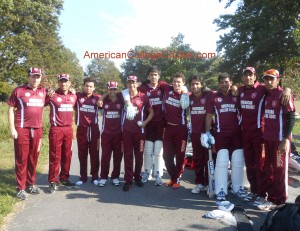 From the Harvard Crimson in 1887:  Recently the following challenge was sent to the Yale News by the Harvard Cricket Association:- 
"Gentlemen: We wish, in the name of the Harvard University Cricket Association, to challenge, through your paper, Yale University to play a match game of cricket next spring, the date and place to be arranged here-after. The challenge will remain open until Feb. 1, 1888. Hoping that we shall soon have a favorable answer, we are yours very truly,
JAMES B. MARKOE, President.
T. WILLING BALCH, Treasurer.
REYNOLDS D. BROWN, Secretary."
The Harvard Crimson went on to say, "There is no regular cricket eleven at Yale, but there must be many men who have played the game either at St. Paul's School or elsewhere before going to college."
In connection with the above challenge, the New York Times said editorially:-
"The challenge of Harvard to Yale to meet her in a match at cricket would have more chance of acceptance were not this sport one of the few in which the New Haven institution as yet makes no pretensions to expertness.
The great cricketing college is the University of Pennsylvania, which is very easily first in it. The laurels of base-ball, foot-ball, boating, tennis, or field and track athletics may pass from one institution to another during successive years, but no American college meets Pennsylvania on the wicket with much prospect of coming off victor. 
Haverford, Columbia and Harvard, however, often put fine elevens in the field, and it would probably give a great impulse to one of the most beneficial and least objectionable of college pastimes if Yale should now accept the Harvard challenge, pick out a team of cricketers, and with the opening of spring begin field practice in earnest."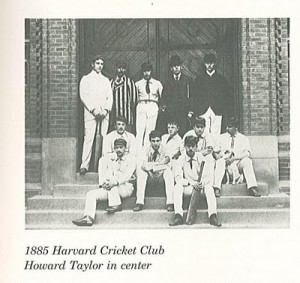 Though there were other challenges our Research Dept (aka Google) has found no record of Yale fielding a cricket team,against Harvard or other universities, nor did cricket historian David Sentance.
At the end of 2008 when Lloyd Jodah was beginning American College Cricket, Yale was one of the first colleges he was in contact with, a student named Varun Parundare, in attempting to start cricket clubs for the first American College Cricket Spring Break Championship.
It was Parundare who gave Jodah the link showing the Spring Break dates for US colleges.  The promotional posters (scrapped) for the first American College Cricket Spring Break Championship listed Yale as one of the teams.
Ultimately Yale did not field a team, and University of Pennsylvania once again led the way to become the first Ivy League school to join American College Cricket, in 2010. However within the last month, Harvard, Cornell and Princeton have joined the national organisation, and played in the American College Cricket North East regional. Harvard defeated Princeton in their first meeting, on Oct 6.
This semester the Yale club managed to pull together a team to take on their historic rivals Harvard, in a "friendly" cricket match as reported excellently here in the Yale Daily News:
So 150 years after an official cricket club was first started at Harvard (1862), and 124 years after the challenge was issued, Harvard and Yale finally met in a cricket match !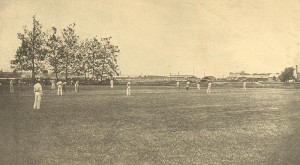 Penn Cricket field in the 1800's