by John Aaron
Richmond Hill would eventually post 181 for 7 in their 20 overs.Bowling for Atlantis: Jason Greaves 3-0-23-3
Atlantis vs. Richmond Hill
It was only a few weekends ago that Atlantis convincingly defeated Richmond Hill in The Cage and moved on to the EACA's Power40 Zone "A" finals, so Richmond Hill
had everything to prove that the only way to the EACA's T20 Blitz would be through the Richmond Hill gate, and it appeared very early that Richmond Hill was prepared to lock and double bolt any such gate.
Winning the toss and electing to take first strike, Richmond Hill, after losing Debo Sankar caught behind for 4 off the bowling of Casper Davis, Jr, and the score on 21, quickly settled down adding 43 for the second-wicket stand and another 110 runs for the fourth-wicket partnership. The runs coming primarily off the bats of Wahid Ward, 40 off 30 balls (3x6s, 3x4s), Zaheer Sadloo, 31 off 32 balls (3x4s), and the match-winning performance of 62 off 32 deliveries from Imran Ali (2x4s, 6x6s). The veteran Ali electrified the small park and threatened surrounding vehicular traffic, as Richmond Hill raced to 157 for 4 in 17 overs, not losing a wicket between the 7th and 16th overs, before losing the next four wickets in as many overs.
The young energetic Atlantis lost the top half of its prolific batting line up within the first nine overs. Had it been the seventh-inning of a baseball game, the hometown patrons would have started exiting the stadium, as it was all but over at that stage. However, Atlantis' Alex Amsterdam, 13 off 11 balls (3x4s), Jason Greaves, 13 off 16 balls and skipper Prashanth Nair with a quick-fire 16 off 9 deliveries, including successive sixes and a solitary boundary, showed some grit in the ebbing moments of the losing cause.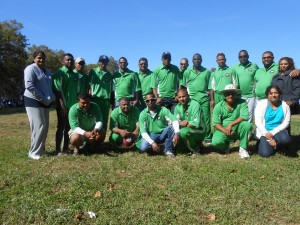 Richmond Hill was adamant in making an emphatic statement on its way to the EACA's T20 Blitz final, by taking Atlantis out of its misery and out of the way to the finals, closing out the green and gold boys at 88 all out and five over's shy of 20.
Bowling for Richmond Hill: Zaheer Sadloo with 4 for 21 off 3.2 overs was the pick of the crop, with Deryck McDonald 3 for 18 off 4 overs and Wahid Ward 2 for 19 off 3 overs. Atlantis would eventually succumb at 88 all out in 14.2 overs, losing by 93 runs.
Meten-Meer-Zorg, led by Ajaz Asgarally would lose its first wicket with the score at 13, with wickets falling regularly at two and four over intervals thereafter. Meten-Meer-Zorg struggled to put together quality partnerships and surely missed USA player Andy Mohamed. Some questioned why the experienced club mentor and skipper Ajaz Asgarally did not bat up in the order. None the less responsible knocks did come off the bats of USA national Under-19 player Amarnauth Persaud, 26 (1×6, 2x4s), with Saud Hussain, 25 not out and Hemendra Ramdihall, also with 25 (2x6s, 2x4s). Meten-Meer-Zorg posted 152 for 7 in their 20 overs at an asking rate of 7.60 per over.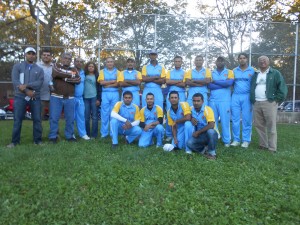 Bowling for Everest/ACS: Saheed Amin with 3 for 25 was the pick of the bowlers with Zamin Amin and Terry Hastoo each grabbing two wickets apiece at a cost of 23 and 33 runs respectively.
Everest/ACS led by the youthful Karan Ganesh and mentored by the veteran Zamin Amin started their quest to another championship final on a similar note, losing their first wicket that of Steve Nowrangilall, 8, with the score on 14. They would lose their second wicket 37 runs later in the sixth over, and a very valuable one in Tamesh Balwant, 22 off 16 deliveries (1×4, 1×6), but still one wicket ahead of their opponent at the same stage. Opener Aun Merchant with 26 off 30 balls (2x4s, 1×6) was intent on staying at the middle while stroking the ball around for the ones and twos. Joined by Gregory Sewdial, 22 off 21 balls, they contributed to building a pathway to an Everest/ACS victory, with Zamin Amin's contribution of 18 off 12 balls (3x4s) contributing significantly. However, it was the inning of another veteran Terry Hastoo, 36 off 13 deliveries (4x6s, 1×4) and batting at number eight that electrified the crowd. The batsman took the Meten-Meer-Zorg bowling to task, punishing anything short and outside the off stump. He was particularly painful to young Amarnauth Persaud, hitting the bowler for three sixes on his way to the match-winning performance and his team's tally of 153 for 6 in 18.3 overs.
Bowling for Meten-Meer-Zorg: Young Trevis Ross with figures of 4-0-26-3 was the pick.
Coming to a Cage near you soon…
Everest/ACS vs. Richmond Hill, two of the EACA's best will lock horns to the delight of those on the other side of the one-block fenced battleground, this Sunday, September 30th.