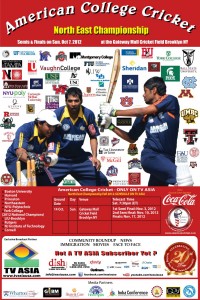 For some time I've searched for a way to honor the Jodah family's contribution to cricket. But realized if I called an award "The Jodah Trophy" people would assume I was naming it after myself.  
Then 2 Sundays ago, I had dinner with my brother Colin Michael, at Boulder Creek Restaurant. We were there accidentally, as I intended to go to Outback Steakhouse which had a special ! Michael
has been invaluable with scheduling of our Championships,as well as in other ways – I put my dilemma to him and he came up with a great idea : the Deryck Jodah Trophy ! Yes, though Michael did not get my good looks and brains, he could still come up with an occasional great idea !
Our brother, Deryck (known as Ricky) was killed when, according to reports he was stopped at a traffic light, hit by what may have been a drunk driver from behind, who then left the scene without calling 911. This was in Guyana in 1991 so details were murky & justice not done.Compounding the tragedy, the accident happened on his toddler son's birthday. Ricky was the only one of my immediate family who never came to NY. 
Like every boy in Guyana back then Deryck learned to walk and play cricket practically at the same time. Michael is the eldest then 2 years younger myself, followed by Ricky 2 years later.Though we were 5 siblings my youngest brother Errol and my sister Jacqueline were a bit younger. The 3 of us played cricket every minute until our Mom (Pauline)called, in any space that we found,interspersed with a fight or two-sort of like the NHL, but with more playing. 
I was the best batsman (I know Deryck would have disagreed with this, and Michael dismisses it as a rumor I started) until Errol got older, learned from us, and indisputably became better.
As a teenager, Ricky's cricket took a back seat when he found that he looked like Shashi Kapoor's twin. Shashi Kapoor was a heartthrob who was the Brad Pitt of Bollywood. Resembling Shashi was a force more powerful than Krptonite,and Deryck couldn't help but play the field, rather than on the field. Then he met Diane whom he married, and they got a son, Kevin. 
Deryck was liked by everyone – and he was the life of the party with older relatives, as well as with his friends and peers. It was amazing how popular he was with people who met him. Just recently I met one of his friends Jerry Persaud, who reminisced about the fun times they shared, particularly at the Georgetown Cricket Club.
As a family of Indian background we were unusually athletic, and played every sport even beyond cricket and later Deryck played squash for fitness.  
We grew up amongst a lot of uncles and in the early 1960s my Dad (Manoo Aaron) and many of his brothers played for Gandhi Youth Organization. My uncles Moses & Frank were the best, and Moses became the most well-known.  
Living by Bourda Cricket Ground, the Jodah family took in, facilitated,entertained, nurtured and made part of the family most of the top Guyanese batsmen from the 1960′s onwards. The gate, yard and doors of 126 Regent Road (and 125 Regent Rd) saw many of Guyana's greats pass through:  Alvin Kallicharran, Shiv Chanderpaul, Ramnaresh Sarwan, Sew Shivnarine & Len Baichan played Test cricket. Kallicharran & Baichan scored 100s on their Test debut.
Many more who slept on our beds or floors, ate with us, and played cricket and dominoes with us. Later my brother Errol (long after our part of the family had moved from 126), and my cousins Ritchie & Moses,played with his good friend Carl Hooper, Andy Jackman, a 13 year old Shiv Chanderpaul. 
So as a tribute to my brother Deryck (Ricky) Jodah, and the contribution of the Jodah family to cricket,the American College Cricket North East Championship, sponsored by Coca Cola will be played for the Deryck (Ricky) Jodah Trophy.
Matches start at 8 am,11 am & 2 pm on Sat Oct 6 & 7. The Semis & finals on Sunday Oct 7 will be televised by TV Asia. Teams must be present at least 30 mins before gametime. Late teams only will be penalized overs.
The Fields for the North East Championship are :
BROOKLYN:
Gateway Spring Creek Cricket Field (Gateway Shopping Center Erskine St Exit,Belt Parkway )
QUEENS
Baisley Pond Park – intersection of Baisley Blvd, Rockaway Blvd & Sutphin Blvd
Baisley Pand Cage – Foch & 150th St,
Cunningham Park (2 fields) – Queens
Field 1 – 73rd Ave & Hollis Hills Court  (just past Francis Lewis Blvd)
Field 2 – Francis Lewis Blvd & 73rd Ave.
These fields are all near the Jamaica (Zip code 11432) area of Queens
– Share AmericanCollegeCricket.com articles on Facebook Twitter, & other social media to earn Bonus Points.
– ROSTERS must be emailed to Lloyd by a College Official such as a Faculty Advisor, Assistant Registrar, Dean etc.
– SCORING – will be done with the CricHQ app (for iPhones & Androids). Each team must have 2 members who know how to use it.  For technical question email
Jamie@CricHQ.com
                  – there will be LIVE ball by ball scoring & commentary on our website so fans can follow everywhere.