You will have many opportunities to speak publically about cricket, & explain the game. All of our Clubs have now had their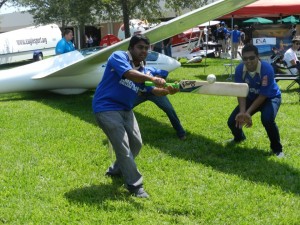 college media cover them. Some of you have been interviewed by TV Asia, NY Times, Washington Post etc. Practically all clubs will have tables, or presentations in the next week or two, to meet and attract new members.
Here are a few suggestions for your "Club Sports", "ClubFests" or "Orientation" Day; or when doing interviews by the media, & other interactions with the public about cricket and your club.
Make the table exciting and interactive  
1. if possible show videos of exciting fast bowlers like Shoiab Aktar, Brett Lee etc…and American College Cricket videos (many are on Youtube)
2 -Explain briefly the tough aspects of the game, to get the interest of the serious competitors……& also explain "just for fun" cricket
3 -Have the new people "Like" AmericanCollegeCricket.com on Facebook immediately on their phones – they will then be connected to your club, & us
 4- wear/demonstrate the protective gear….like college football, cricket is a tough game
5 –  show the types of balls used – explain that at a "just for fun" level we play with a "soft" ball & no equipment is required and even first-timers & novices can play. 
EXPLAINING CRICKET:
In explaining anything you should not start with the most complicated part – yet cricketers begin by explaining LBW, & other more complicated parts of the game's rules – its simple, cricket is a bat & ball game, where 1 team tries to score more runs than the other !
When explaining say: Cricket has 3 formats, the differences being the length of the game. DON'T explain lesser stuff like colored vs white clothing unless asked.
                1. The format of American College Cricket is the shortest form : about 3 hours, roughly the length of a football,baseball game or basketball game.
                 2 the other 2 formats last longer, 1 day and 5 half-days espectively (sort of like golf) 
OUTS – say there are 2 main ways to get out – (1) bowled  (2) caught
                the others can be learned later    
Cricket is the Original American game, and American College Cricket's Mission is to bring it back and raise its profile. Accordingly we have gotten mainstream American media to do stories on cricket. There is a lot more work to be done.
Here are a few tips for when you are being interviewed by TV Asia, your College or other media:
1. DON'T say : T20 or 20/20…….its cricket !….(the format happens to be 20 overs, "a shortened format played over 3 hours", I like to say).
Unless you are speaking at an Optamology or Optometrist Conference don't say " T20 or 20/20 ! We are marketing CRICKET. American College Cricket promotes cricket, NOT T20 or Twenty20 !
2. DON'T say : it's a "gentleman's game" – would you want to watch or play a "gentle man's game" ?
3. DON'T say : it's British or a foreign game – Cricket was played by George Washington & John Adams (the first 2 US Presidents), & was the main American & Canadian sport until the 1880s. ( Baseball was started in England too but nobody says its British)
4. Highlight the fact that we catch the very HARD ball with our bare hands, and the daring of fielders ! Highlight fast bowlers charging up – & the reasons we wear helmets & other protective gear !  We must highlight the thrilling, exciting aspects of the game !
   Highligh the great saves & catches of our fielders !
5. Speak as a representative of your school & American College Cricket – don't allow anyone to make you feel like a "foreigner". In Track & Field & other sports, "foreign" athletes represent US Colleges all the time.
6.
DON'T say
"ACC"…noone knows what that is…….ALWAYS say "American College Cricket"……the name says it all…its College, its Cricket and its American !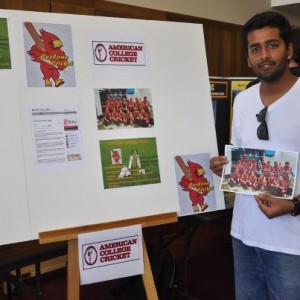 7. talk about your college rivalries – for example Auburn & UF now have a strong rivalry going in cricket. USC & UCLA, USC & Thunderbird. 
8. The FIRST college sports teams in America were cricket teams.
Remember : there are over 100,000 students, classified as International students from India in American universities PLUS students from a "cricket background" who are American, & American permanent residents,
PLUS International students from other cricket-playing countries like Pakistan, South Africa, Sri Lanka,Nepal, England, Bangladesh, England, Australia, New Zealand in the USA & Canada – lots of reasons for college cricket to be HUGE – but its up to us, it won't happen by osmosis !