Sunday was the Finals of the EACA League Power40 competition in Queens NY –  Atlantis Cricket Club vs Everest/ACS Cricket Club, and fans were in attendance,including Banks Beer.
Two principals of EACA, Krish Prasad and John Aaron are on the Advisory Board of American College Cricket, and Rudy Persaud, President of the EACA (Eastern American Cricket Association) is a strong supporter of us. Hugh Pitter of Gateway Oval where we televise the North East Championship from, was also present.
Captaining Everest/ACS was York College all rounder Karan Ganesh, who seems to score runs every time I see him bat. Ganesh was a key factor in York College winning the Chanderpaul Trophy at the 2012 American College Cricket National Championship, and is one of the top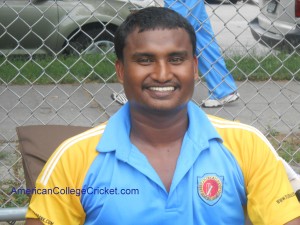 all rounder batsmen in the USA.
Captaining John Aaron's Atlantis Cricket Club was 19 year old Prashant Nair (CCNY) who played in last year's American College Cricket North East Championship, and represented USA in the ICC Under 19 World Cup Qualifiers in Ireland.
Over the past 2 summers I've had the pleasure of watching Atlantis, managed by Lester Hooper, in action on an occasional Sunday as I've chatted with John. I even joined them for some Wedding food when their wicketkeeper Ryan Sookdeo got married !  
Everest/ACS won the toss and batted first. Nicholas Standford took 2 early wickets to make it 29 for 2 before Greg Sewdial (Hofstra U) 91, and Balwant 34 put on 99 runs.Sewdial's 91 came off 68 balls and included 15 fours & 1 six.                                                                                                 Photo: Karan Ganesh (York College)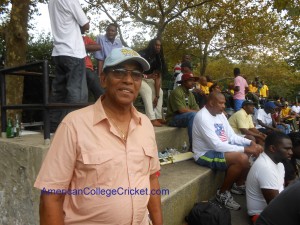 Karan Ganesh then treated the bowlers imperiously,dispatching the balls expeditiously like some kind of ninja batsman. Ganesh's 88 came off 55 balls, with 7 fours & 6 sixes !
Amsterdam took 5 wickets for 58, but really the Atlantis bowling was not effective beyond Standford's early wickets.
Set 282 and a scoring rate of 7.05 to win, Atlantis's batting line up was strong, including Nicholas Standford and Kaveshwar Bridgepaul. Bridgepaul had wrecked havoc in the PSAL high school league & the NYPD United Cricket league, and had made a come back from a stabbing he suffered when he was surprised and mugged by a gang.      
 Photo: Gateway Oval's Hugh Pitter
Blades 23, Amsterdam 14,Standford 33 and Bridgepaul 12, all looked threatening briefly,before losing their wickets.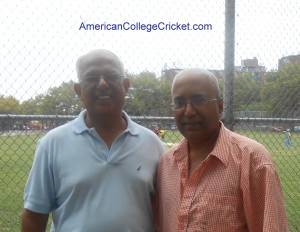 With Atlantis sinking, recently married Sukdeo might not have been so eager to go home, so he stuck around and smashed 22 with a 4 & 2 sixes.
All four Everest/ACS bowlers bowled well with S Amin taking 2 for 49, T Walke 2 for 40 whilst former USA Captain Zamin Amin took 4 for 20 and Man of the Match Karan Ganesh took 2 for 17 as Atlantis went under for 128. So Everest/ACS once again emerged Champions of the EACA League in the 40 over competition !
The day was memorable for me too, as I met Zinul Mohammed, a man who played cricket with my father and uncles in the 1960s for Gandhi Youth Organisation, and on Jan 25 1970, Zinul flew on the same plane,and landed at JFK Airport with my Uncle Moses, the first Jodah to immigrate to the USA !                                                                                    Photo: Zinul & Lloyd
Of course I had known that the first apartment my Uncle Moses stayed at in NYC, was owned by Krish Prasad !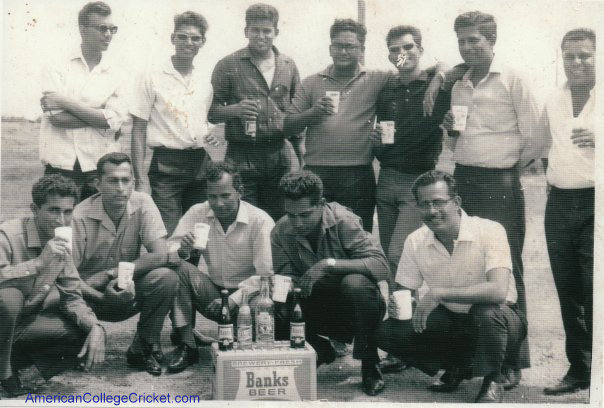 right: Aaron Jodah
Front: Left: Uncles Marcus & Moses, center 
PHOTOS :
1 –
Umpire Steve Kalloo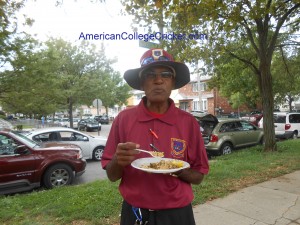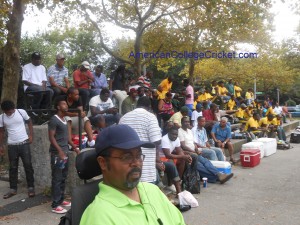 2. Spectators