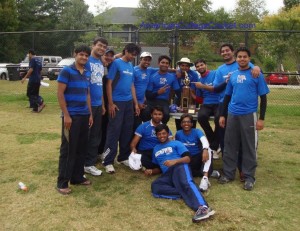 Elvis Presley lived in Memphis from age 13,and soaked up the music of Beale Street & his surroundings to create his sound that he went on to change the world with. Now Memphis has its first real American College Cricket team ! It's about time, as the King's white stage outfit in the 2nd half of his career looked like blinged out cricket whites anyway !  
 "All shook up" about the opportunity to join American College Cricket, Memphis Tigers Cricket Club President Santhosh Ankaraju told American College Cricket's President Lloyd Jodah, "I have always appreciated and admired your group's excellent contributions to our cricketing community……..the partnership between the American College Cricket and MTCC  will help our club to achieve endeavors and continue on with even greater commitment and success and to strive to be a strong and vibrant community based sporting club."
Memphis Tigers Cricket Club was formed in July 2009 by students from the Indian Students Association at the University of Memphis,who have a "Burning Love" for cricket. They play in hard tennis ball tournaments such as the Bull Dawg Tournament (they won the Auburn Tiger Cup last October) and the Independence Cup against other Universities such as Auburn and the University of Alabama. Just this past week the Memphis Tigers played to a tie in the Finals of the Ole Miss Cricket Tournament (hard tennis ball).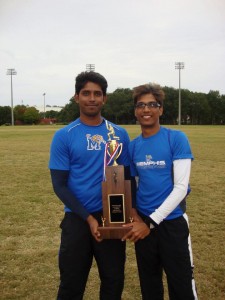 The club's advisor Vamsi Krishna Dhanekula who took the initiative to contact American College Cricket said, "we mostly play in the play in parking lots right now. Sometimes we get lucky and get to play on Echles Field."
"International Students Office also played a huge role in getting MTCC approved and still provides enormous support in trying to get matters approved from the university authorities. The first official advisor for MTCC was Ms. Clara Nunis who is the International Students Coordinator and also happens to be a person keenly interested in cricket.
"
said
Santhosh.
The club has about 45 players including some alumni, who play as well as support the club.
A number of players play non-collegiate hard ball cricket, but now the club will begin to practice, and develop a hard ball team.
The University of Memphis' football team was started in 1912, and competed in the Conference USA. From 2013 it will join the Big East. 
University of Memphis is one of 2 American universities that have a live tiger as a mascot. A live Bengal Tiger has been its mascot for over 30 years – there have been 3, and the current tiger is name TOM III. Pouncer is the name of the costumed mascot.
The Memphis Tigers Pom Squad has an amazing record amongst collegiate dance squads around the country, winning the National Championship for 9 consecutive years from 1987 to 1995, then again in 2007,2008 2011 and 2012 ! The college reached the NCAA Finals in men's basketball in 1973, losing to UCLA Bruins led by later NBA Hall of Famer Bill Walton.
The University of Memphis was begun in 1909,and has a current enrollment of 23,000 students. 
 The school Colors are Blue & Grey & the fight song is "Go Tigers Go" !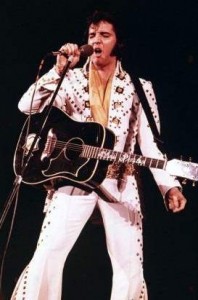 Many great musicians grew up in and around Memphis, Elvis, Muddy Waters, Howling Wolf, B.B King, Booker T. Jones, Carl Perkins, Johnny Cash, Al Green, Robert Johnson, Three 6 Mafia, Justin Timberlake & more.
Now add the sounds of Bhangra and Bollywood and the sweet music of ball on willow and yells of "Howzat ?!? and Shabash " when the University of Memphis Tigers take the cricket field against nearby American College Cricket teams like the Arkansas Razorbacks and Arkansas State Red Wolves and in the American College Cricket South West Conference Championship.
Already, joining American College Cricket has got the club noticed by their student media, Daily Helmsman: