This Saturday at high noon, the NYPD cricket team will play the Toronto Police Dept Cricket team in Queens NY.
Location : Cunningham Park, 73rd Ave and Hollis Hills Court.
Directions : Clearview Expressway South bound to 73rd ave Exit
                 Clearview Exp North bound to Union Turnpike Exit.
Refreshments will be served & free parking is available.
Back in May the NYPD Cricket team travelled to Toronto and played a tri=angular tournament with the Toronto PD and Waterloo PD.
American College Cricket President Lloyd Jodah, who helped get the NYPD team started nearly 2 years ago will be in attendance.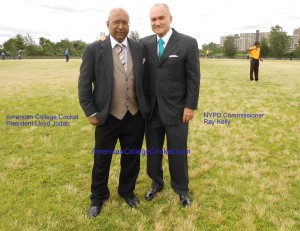 In photo NYPD Commissioner Ray Kelly is seen with American College
Cricket President at the opening of the NYPD United youth cricket league in June.