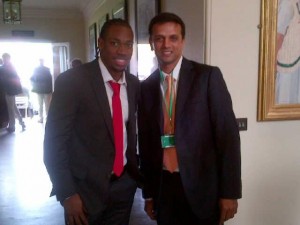 "I was at Lord's today and I got to ring the bell! It was great mingling with players from South Africa and also getting to meet Brian Lara and Rahul Dravid.
Enjoying my time at Lord's as the first non professional cricketer in history to ring the opening bell.I feel so blessed in everything. Had to dress in my Sunday best !"
 -Yohan Blake, 2 time Olympic Silver Medalist, cricket player & 2nd fastest in the world
to his friend, Usain Bolt.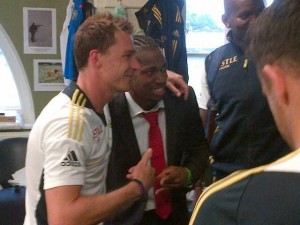 Photos:
1 – with India's great Rahul Dravid
2- on the Lord's field
3- with T & T's Prince Brian Lara of the West Indies
4-with South Africa's amazing Jacques Kallis
5- with South African fast bowler Dale Steyn
Photos -courtesy Yohan Blake FB Fanpage