Gordon batting at the groundbreaking 2011 North East Championship- the first televised cricket in the USA & Canada
American College Cricket player all rounder Adrian Gordon is having a great time since he graduated from NYU-Polytechnic in Brooklyn with his degree. 
First the fiery fast bowler went to Antigua to play cricket, then spent summer playing for Skegness in the Lincolnshire League in England. He even practiced with the West Indies team early in the summer.
Now Adrian has signed to play for Hannans Cricket Club in Australia, from October 2012 to April 1st 2013. Adrian will spend 2 weeks in the US after his season in England, before going off to Western Australia – assuming his visa is approved. 
American College Cricket President Lloyd Jodah said, "American College Cricket has created a new path for cricket players – the opportunity to play competitive high profile cricket whilst getting your education. And, as in the case of Adrian, opening up opportunites for young players to pursue your dreams of playing cricket as a career,knowing you have your education for when your playing days are over."
Last year Gordon spent a week with the Indian Premiere League's Rajasthan Royals and impressed. Gordon founded the NYU-Polytechnic Cricket club back in 2010, together with Lloyd, and has the highest score in college cricket, 145*.  
This past week Adrian practiced with the England and South African Test teams at Lords' Cricket Ground.
It's particularly pleasing to us to have cricket return its hallowed home, after the blasphemy of having Archery at Lords, instead of cricket in the Olympics.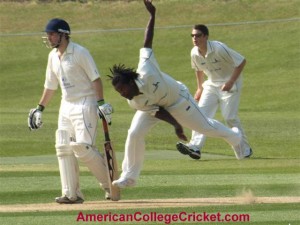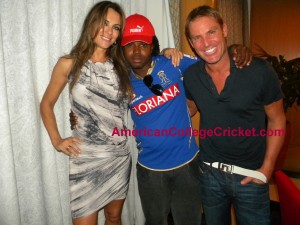 Liz Hurley, Adrian Gordon & Shane Warne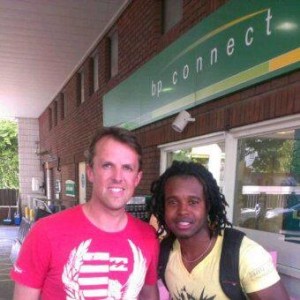 Adrian with England's Graeme Swann after practice at Lord's