As Jamaicans, both Usain Bolt & Yohan Blake have been playing cricket all their lives. Not surprisingly, when they showed hints of their running speed, they were urged to take up Track & we all know the results !
The 2 fastest men in the world still have cricket dreams however, & play whenever they can. Like sprinters Bob Hayes, Willie Gault and James Jett who have entered the NFL,both may take time to enter the professional cricket world : Bolt in the Australia where cricket superstar Shane Warne (fiancee of Liz Hurley) is trying to get Bolt a tryout with the Melbourne Stars team in the Big Bash League.
Yohan Blake spoke with reporters at the Olympics, & fielded questions from Indian reporters about his cricket plans: 
"I want to show you that I am better at cricket than running,I am a really talented batsman.You guys need to see me in action. I am a bowling machine that can bat all day. Cricket… that's my love, that's my passion, every day I watch cricket.When I was in growing up I watched cricket with my father. I have grown up to love the sport even more than track and field."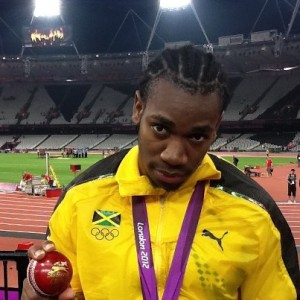 "Cricket is my first love and if I get the chance, I want to play in the IPL (Indian Premiere League). I am working hard for it.
I love Sachin and Virender Schwag and my boy Chris (Gayle) always talks about me coming to India for the IPL. A couple of teams want me to come and try out because my game is supposed to be good.
I will be going to Mumbai and Bangalore. I also like Kolkata Knight Riders and Chennai Super Kings. But I want to play for Royal  Challengers Bangalaore because of Chris."
When asked what he thought of the Indian team, Blake added,
 "I know Sachin Tendulkar, MS (Dhoni), Virat Kohli, Virender Sehwag,  Rahul Dravid. I'm faster than the Indian bowlers, they are bowling like 87-88 mph, I'm bowling 90-91 so…I am very fast. Once I get the chance to play I can even get out Sachin, you know, and Virender Sehwag."
Can Blake play better than his friend, the fastest man in history, Bolt ? 
"Even though he (Bolt) is starting to get more bounce than me sometimes, I am really quick. I bowl fast… sometimes I even swing the ball. In fact I am better than Bolt and in cricket I can definitely beat him,"  Blake was quoted by the Mumbai Mirror as saying.
Of course, the reporters couldn't be happy with a great interview, they had to ask a West Indian, "who's better  Tendulkar or Lara ? "
What was Blake, a Jamaican supposed to say ?  "You are putting me in a spot, man" Blake deflected.
As for Bolt, Usain  said "He (Shane Warne) contacted me and asked me about if I am serious ( about playing cricket for Warne's team) and if I really want to do it then he can put in a few words that should get it done," Bolt told Channel Nine, according to Cricinfo."So we will see if I get the time off. I will try."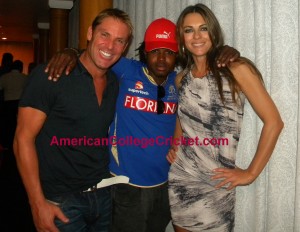 "If I get the chance I will definitely try because I know it's going to be a lot of fun. I don't know how good I am. I will probably have to get a lot of practice in," he added.
Hollywood superstar Russell Crowe, tweeted: "Usain Bolt playing cricket for the Melbourne Stars?? @warne888 how amazing would that be?
 Photos courtesy Facebook Fanpages of Usain Bolt & Yohan Blake.
Right photo: Shane Warne, Liz Hurley & American College Cricket fast bowler Adrian Gordon