When 18 year old undergrad Pranav Adnani came to Northeastern University in Fall 2011, he said "there was no cricket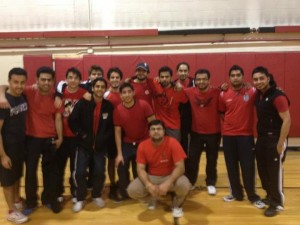 club & despite a large  student population of Indians, Pakistanis, Sri Lankans, Bangladeshis etc, any student who wanted to play would usually join teams outside of school ".
In fact, since 2009 various students at Northeastern have contacted American College Cricket President Lloyd Jodah, wishing to be a part of the national collegiate organization for cricket, but the student-cricketers were not able to progress beyond their internal tapeball play. 
However,once Pranav learned about American College Cricket and one of its founding member teams, Boston University Cricket Club, he was set on getting a competitive club going,
"
Thus, I approached the director of club sports at Northeastern with a proposal to start a cricket club. The director Jerry Foster approved of the proposal and finally we were established on January 13, 2012 under the club name of Northeastern University Cricket Association (NUCA). 
We were given a financial budget for the academic year of 2012, and our E-board was elected via forms and interviews with posts of Co-Presidents, Vice-President, Treasurer, and Secretaries. I'm currently the Co-President of NUCA with Parth Turakhia (also an undergrad student). However, the club's late approval meant that we missed out recruiting new freshman to our club in the Welcome Week (Freshman Week). Despite that, NUCA managed to gain 35 members in the first month, and we would meet up to practice weekly (every Sunday)."
–
In April 2012 Northeastern played a series of matches against Boston University & a non-collegiate team, Boston Gymkhana Sports Club. Then during the Summer Break, despite most students being away from school, the Northeastern CC began an internal Summer League, and got over 200 registrants !
PHOTO : Angad Arora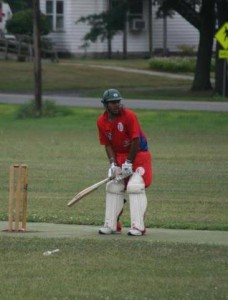 Northeastern sports teams are known as the Huskies since 1924, & the mascot is "Paws", a Husky dog. The school was founded in 1898 and has an enrollment of about 20,000 students. Of the 2,800 undergrad students at last enrollment, about 17 % were International students.
–
Northeastern University is highly rated in many categories from Medicine & Engineering to Business, and in the 2012 US News & World Report was ranked 62 nd, up 7 spots from 2011, in the Top National Universities category and rated a Tier 1 National Research University. It has one of the largest & oldest, since 1909, co-op/internship programs in higher education.
–
Northeastern does well in Crew, and has about 40 Club Sports.The Northeastern Club Baseball team won 3 New England Club Baseball Association championships in 2007,2008 & 2009. Then on May 25, 2010 the club baseball team defeated Penn State to win the National Club Baseball Association Division II World Series and national championship. In the 2008-2009 academic year the Northeastern Club Field Hockey and Women's Basketball teams won National Championships in the academic year 2008-2009.
–
Northeastern has connections to American sports history : Matthews arena is the oldest existing ice hockey rink in the US, & was the original home of the NHL's Boston Bruins.
Solomon Court at Cabot Center is located at what was Huntington Ave Grounds – from 1901 to 1911 the home of the Boston Red Sox. The first World Series game was played here in 1903 & Cy Young pitched the first perfect game in the modern era in 1904. A statue of Cy Young now stands on the spot where the mound was.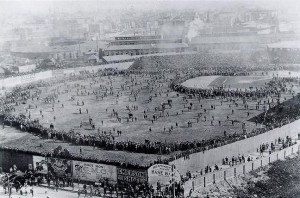 –
Twitter co-Founder Biz Stone, Napster founder Shawn Fanning, Comedian Patrice O'Neal, Supermodel Beverley Johnson, Boston Celtics' Reggie Lewis.
Though new, the Northeastern Cricket club will be a contender in the American College Cricket Northeast Championship to be played in October in NYC. Advani himself has played since the age of 5,was captain of his high school team and played in the Mumbai Cricket Association league. Many other players like batsmen Angad Arora & Anvesh Buddineni, have a similar pedigree.
–
In 2 days 50 Northeastern students have "Liked" our AmericanCollegeCricket.com Fanpage !! Which club can beat that ?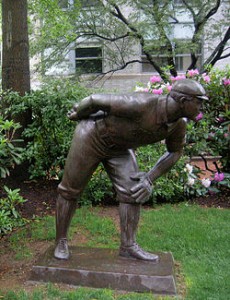 by Lloyd Jodah
1903 Photo & Cy Yooung statue photo courtesy of Wikipedia Commons.