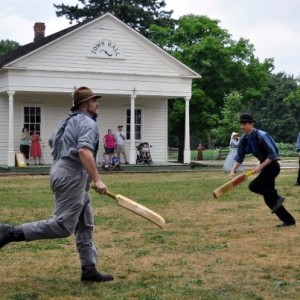 The Black Creek Pioneer Village replicates life in the 1800s in rural Ontario, with people dressed in clothes of that period, buildings, demonstrations & activities.
As cricket was Canada's national game in the 1800s the Village invited members of 2010 American College Cricket Champion York University to highlight its cricket activities.
On July 15 & 22 the Black Creek Pioneer Village hosted,for a day of activities, York U's Jai Patel, Hasan Adil & Jaiveer Chauhan took part in a Cricket Tutorial, a "What is Cricket Talk"? & an Exhibition Game, in which kids & other members of the public took part.
Every American College Cricket club has a mandate to raise the profile of cricket.
Black Creek Pioneer Village is "is a living history experience featuring heritage buildings originating in communities across south central Ontario that have been faithfully furnished with original furniture and artifacts.
Photos courtesy of Black Creek Pioneer Village & York University Cricket
Club
Some members of the York University team in Florida at the Cricket Stadium, at the 2012
American College Cricket Spring Break Championship