The American College Cricket National Championship is played for the Chanderpaul Trophy, and Shiv is the Patron, and Head Coach of American College Cricket, since Dec 2008.
During the New Zealand vs West Indies matches at the "American College Cricket" Stadium in Florida Chanderpaul spoke about American College Cricket on TV,
"We wanted to do something about the development of the game in USA, and my manager Chris and I discussed it with Mr Jodah, and that's how I've been involved with American College Cricket from the beginning. Its grown from 0 to over 60 Universities in USA & Canada and I'm really pleased with the tremendous progress. Whenever I can, I'll meet & coach the College players."
and later, in Jamaica just before the 1st Test, he told reporters,
"It's the love of the game that keeps me going. Cricket is a great game and I enjoy every moment out there on the cricket field. Yes, it's true, I have been playing for a long time, but I take great pride in playing for West Indies. As a little boy I loved the game and the love is still there. I really wanted to play cricket and I achieved that dream." 
Chanderpaul made his Test debut as a 19-year-old back in 1994 and,through hard work & dedication, became one the leading batsmen in the history of  cricket. Shiv is now # 9 on the List of All time Run scorers, surpassing the great Sunil Gavaskar. Shiv has 10,290 runs in 142 matches with 26 centuries at an average of 50.44 runs per innings. Since the retirement of Brian Lara, Shiv has averaged over 61 runs per innings, on a struggling West Indies team.
He was recently # 1 in the ICC Test match batting rankings but is now # 2 behind Sri Lanka's Kumar Sangakarra.  However, Chanderpaul is not focused on chasing the Number 1 spot, but on batting West Indies into winning positions in the upcoming two-match series,
"It was never my aim to go into any game and try to surpass anyone or become Number 1. If you are there, it means you have done well. I will continue to take it day by day, game by game and do my job to the best of my ability. If you are up in the Top 10, you could say you are doing quite well."
 In the three-day game we applied ourselves well – Narsingh played a fantastic innings and got a hundred, while Barath and Powell laid the foundation," he said.
"This series is very important for us. We did well in the One-Day Series and the T20 matches. It would be nice for everyone to crown it off with a win in the Test series."
With his friend, Chris Gayle,back in the West Indies side we could see a more relaxed Chanderpaul, which is bad news for New Zealand – back in 2007 & 2008 Shiv was Bradmanesque & averaged over 100 runs per innings !
Chanderpaul recently did some coaching at the 
NaZee Summer Cricket Camp at Presentation College, Chaguanas, T & T.
 The youth camp was
 from 
July 13-15, 
9 a.m. to 4 p.m. daily and cater
ed
 for 
kids
 between 
6
 and 
1
8
 years old.
The kids got tips from the Guyanese batting maestro who was delighted to give advice to them and spend some time with the youngsters. Presentation College, including West Indies Under 19 Kieron Joseph, was a Special Guest at the 2011 American College Cricket Spring Break Championship, winning 1 of their 4 matches.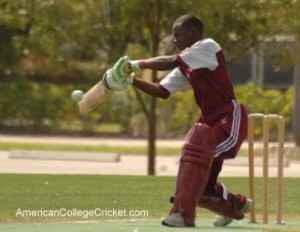 In Fall of 2010 Chanderpaul met with students of the University of  Central Florida & University of Florida at UCF.
PHOTO:
West Indies Under 19 star Kieron Joseph playing for Presentation College at the 2011 American College Cricket Spring Break Championship in Florida.
"Like" our Fanpage on Facebook https://www.facebook.com/#!/CollegeCricket