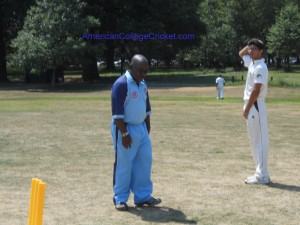 The NYC PSAL has begun a summer coaching camp for cricket. Whilst its expected the high school players who play in the PSAL League will be the main participants, the PSAL Big Apple Summer Camp is open to all youth, even those who have not played the game.
American College Cricket President Lloyd Jodah attended Thursday, opening day where there were about 25 players and American College Cricket Level II Coach Rudy John shared his expertise.
John recently worked on the 2012 American College Cricket Spring Break Championship, which then gave him the opportunity to work at the West Indies vs New Zealand matches at the CBRP Cricket Stadium.
 John is one of the coaches, along with Amir Saddiqui, recommended by American College Cricket to be invited by the University of West Indies to complete their Level III Coaching Certification.  John has been active in the NY Region as a youth Coach for some time.
The camp is supervised by Coach Mohammed Khan, and PSAL Assistant Cricket Commissioner Ricky Kissoon. According to the PSAL : The program is designed to facilitate both junior and high school student-athletes. Our goal is to encourage youngsters to appreciate the love and understanding for the sport of cricket while improving on their skills and having fun at the same time.  The Big Apple Games summer cricket program will assist young athletes in growing mentally, physically, and developing proper hydration and nutrition habits.
The following lesson plans are designed to develop a positive attitude by children toward sport and specifically cricket:
Basic Bowling and Pull Shot
Catching and Front Foot Drive
Fielding and Throwing
Revision Bowling and Front Foot Drive, (i.e. Drop Ball)
Catching and Pull Shot
Running between wickets and Pick Up and Throw
In addition, several modified minor games are included.  The modified games are designed to give students the opportunity to put into practice the skills learnt, maximizing participation and provide equal opportunity. 
Recommend Lesson Format:
Warm-Up
Skill Drills
Modified Games
The Big Apple Cricket Camp will run from July 12th. – August 9th. on Tuesdays and Thursdays from 1:30 pm. – 4:30 pm. at Baisley South Cricket Ground located in Queens, NY on Baisley Blvd. & Rockaway Blvd.  All youngsters are encouraged to come learn cricket.  
American College Cricket has been a strong supporter of the NYC PSAL High School Cricket program from its inception, and encourages all young players to take advantage of this camp.
Back in 2009 PSAL Cricket Commissioner Bassett Thompson & American Collge Cricket President Lloyd Jodah spoke with the NY Daily News: