Last Wednesday,Sandeep Devarshetty,Captain of the new American College Cricket club at LIU-Brooklyn, got the pleasure of meeting NYPD Police Commssioner Ray Kelly, at Police Headquarter, One Police Plaza ! 
No, Sandeep was not the Dark Knight, the new Batman of Gotham City – though he is a batsman ! He was attending a function with American College Cricket President Lloyd Jodah, and NYU-Polytechnic University's Az Cheema. 
So it's fair to say its been a hectic time for Sandeep ! Joining American College Cricket has thrust him into a bit of limelight he had not expected ! First there was the announcement on AmericanCollegeCricket.com followed by the article in local media, DNAinfo.com
http://www.dnainfo.com/new-york/20120711/fort-greene/passion-for-cricket-fuels-long-island-universitys-first-team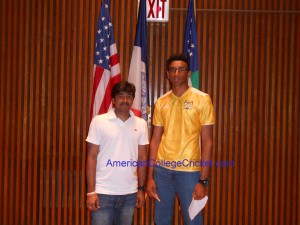 Wednesday Sandeep & Lloyd discussed plans for the LIU Blackbirds cricket club, and possibly a "practice" game against another college soon.Sandeep alo met Sgt Rana, who heads the NYPD United Cricket League for youth ages 15-19.   
Also present were lots of Police Officers, religious & community leaders with members of the NYPD United Cricket & Soccer teams. 
Lloyd Jodah & American College Cricket has been a supporter of the NYPD United Cricket League from its inception, & Jodah was instrumental in the start of the NYPD Police Officers Cricket team which now plays in the Commonwealth League.