In a special Canada Day Weekend event new American College Cricket member University of Fraser Valley undertook a tour to the University of Victoria. UFV played teams representing  Kwantlen Polytechnic University (KPU), University of Calgary (UC) and hosts University of Victoria (UVic). 
The first Canadian Prime Minister, John McDonald back in 1867, declared cricket to be Canada's National Game. Canada also particpated in the first ever International sporting event, a 1844 cricket match vs USA – the first time in world history that 2 countries fought on a playing field, not a battlefield !
So it was that this Canada Day Weekend these 4 teams came together to honor that history, & start a new tradition !
University of Victoria (129/8) –vs- University of the Fraser Valley (101 a/o)
UFV lost its opening game to University of Victoria, falling short by 28 runs. UFV won the toss elected to bowl first, Ahmed and Mani each taking 2 wickets restricted UVIC to 128/8 in 20vers.
Chasing the 129 run target, UFV lost its 4 opening batsmen to Izak. Hamza gave UVIC things to worry about as his fast 30 runs brought UFV close to the target. In the end Uvic restricted UFV to 101. Man of the match was awarded to Hamza Razzak for his quick 30 runs and 1 wicket.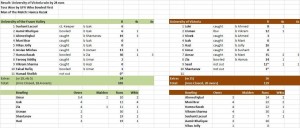 University of the Fraser Valley (169/5) –vs- Kwantlen University (89a/o)
The team came back strong the next game against Kwantlen Polytechnic University – winning it by 80 runs. UFV winning the toss elected to Bat first. Ahmed (36) and Sushant's (31) partnership of 60runs with 1 wicket down gave UFV a good start. Mani (25*), Hamza (17) & Arslan (18) took UFV to reach the total of 169/5.
Mani (3), Hamza (3) and Ahmed (2) combined together took KPU's 8 wickets restricting them to 89. Man of the Match was awarded to Ahmed Iqbal for 36 runs and 2 wickets.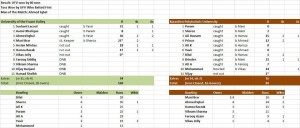 At the end of Day 1- KPU facing 2 losses had little hopes for the finals. UVIC beating UFV and UC were through to the finals. UFV and UC each having 1 wins ultimately made it a decider game for day 2.
University of Calgary (216/4) -vs- University of the Fraser Valley (217/9)
Day 2,
the semi final game between UFV and UC was played at the more than 200 years old historical Beacon Hill Cricket Park. UC won the toss and elected to bat first. With great batting performance by Abbas who scored 103 gave UFV things to worry about. His partner Upkar smashed UFV bowlers all over the park by scoring 70. The partnership of 180 odd runs between Abbas and Upkar took UC to a massive total of 216/4.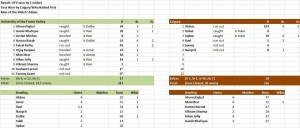 Ahmed (34) and Amir (20) provided UFV a good start, down the order Hamza's quick 33, Vijay's 22 and Faisal's 44 kept the scorecard ticking. By this point everyone at the park knew the match would be going down the wire. With 4 overs left and 32 runs needed with 3 wickets left, Vikas Jolly hit 2 massive sixes and 1 four brought UFV close to the target. UFV required 4 runs in the last over with 3wickets in hand. UFV lost 2 wickets in 2 balls, raising the tempo of the game.
With last wicket left, Sushant scored the winning runs making sure that UFV confirmed its spot in the finals against UVIC. Man of the Match was awarded to Abbas for his great batting performance of scoring 103.
FINALS: University of the Fraser Valley (112 a/o) –vs- University of Victoria (113/4)
Later that evening,the Final was played between University of Victoria and U of Fraser Valley. Winning the toss UFV elected to bat first. Starting off the innings UVIC bowlers Omer, Zia, Shantanav and Izak took 5 early UFV wickets within the first 6 overs. Ahmed's 53 and Sushant's unbeaten 19 help UFV to build its innings, taking every single and double available. Building a partnership of 60 odd runs, Ahmed and Sushant provided stability to the UFV batting. Zia taking 5 UFV wickets restricted the total to 112 in 18 overs.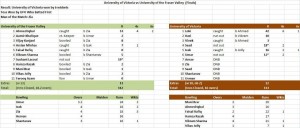 For UVic Loki scored 42 in 6 overs and damaged UFV heavily. In the 16th over, with the help of Saad (18*), Izak (16) and Omer (12*) UVIC reached its total to win the tournament.
In the capacity of the president of UFV Cricket Club and behalf of all the team members, we are very thankful to UFV Student Union Society for helping us sponsor for the tournament and American College Cricket for their immense support. I would also like to appreciate each and everyone from the team for their commitment to the club, team and each other. I would also like to thank the captain of the team Hamza Razzak on behalf of everyone in the team for leading us and representing UFV in its victories in the tournament with full-hearted commitment and dedication.
UFV Cricket Club
University of the Fraser Valley Cricket Club Team:
– Hamza Razzak (c)
– Aamir Khalique (vc)
– Arslan Minhas (wk)
– Sushant Lacoul
– Ahmed Iqbal
– Mani Brar
– Vikas Jolly
– Hamad Sheikh
– Faisal Rafiq
– Vijay Kanjani
– Vikram Sharma
PHOTOS : UVic's Mani Brar receiving his Best Bowler Award
                     UFV's Captain Hamza Razzak
                     The UFV team
                     Action