The NYPD United Cricket League 2012 season was kicked off by NYPD Commissioner Ray Kelly, with American College Cricket President Lloyd Jodah in attendance.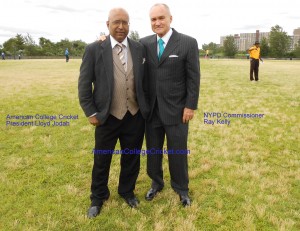 Sgts Rana & Elvis, and Officers from the NYPD Community Affairs Dept distributed uniforms to the teams on a bright sunny day at Gateway Oval off the Belt Parkway in Brooklyn. 
A brisk cool breeze kept blew across the field that had seen the first historic televised games in USA & Canada last October at the American College Cricket Northeast Championship. 
NYU-Polytechnic's Az Cheema was this year captaining the Daredevils, which included top bowler Prashant Nair. Other young stars on show will be Troy Mars, Salim Sajib, Rocky Kowchai, and Trinson Carmichael. Carmichael is now being looked at by City College of NY as a prospect for baseball.    
The NYPD Cricket League is now in its 5th year, with the NYPD providing transportation and food for the players, and a platform for cricket during the weekdays of summer. Following the PSAL High School Cricket League's season, this provides another tremendous opportunity for young cricketers in NYC. 
Now if only City of New York would open Van Cortland Park in the Bronx quickly, after 2 years of delays……we could be even happier about institutional support of the game. 
The Cricket League has been a valuable Community outreach effort for the NYPD, and Commissioner Kelly always takes the time to show up for the Opening Ceremony and the Finals. Involving ages 14-19,the League engages young men in a positive expression of their energy and aggressiveness – the traditional role for sports that's often forgotten. 
Lloyd introduced the CricHQ scoring app to Sgt Rana and it may be used in future games.  The Champions will receive the Ray Kelly Trophy.
Lloyd Jodah & American College Cricket has been a supporter of the NYPD United Cricket League from its inception, & Jodah was instrumental in the start of the NYPD Police Officers Cricket team which now plays in the Commonwealth League.
CLICK PHOTO to see whole:
 Your vote could help us win $ 250,000 from Chase Bank to keep developing the game.
1 – clicking "Log in & Support"
2 – search for "American College Cricket"
3 – VOTE !……… It takes seconds