Adrian Gordon has practised with the West Indies and England teams at Nottingham, and last Tuesday with the MCC side at Lords according to reports! He's seen 2 Tests, at Lords and Trent Bridge, so he's having a jolly time. 
After graduating from NYU-Polytechnic University Adrian went to Antigua to play cricket, prior to going to England to play with Skegness Cricket Club in the Lincolnshire County Premier League. "I appeciate Mr. Lloyd's guidance with this," Adrian said
Gordon has helped his team Skegness CC, playing in the Lincolnshire County Board Premier League, to be at the top of the Standings – Skegness CC was second to last in 2011. Here's a piece of what the local media said about Gordon :
"And the celebratory drinks will be well deserved as far as America international Adrian Gordon is concerned after he battled against the odds to see his team over the line.
He steered the seasiders into a match winning position with his partnership of 74 with Jamie Epton (41), but then wickets began to fall at the other end.Faced with the prospect of all his hard work going to waste, Gordon took charge to single-handedly finish off the job.
It was nail-biting stuff. Indeed there were reports of the club chairman hiding behind the sofa as wickets tumbled. But Gordon kept his cool.
His innings of 78 not out included some majestic shots, taking on one of the quickest bowlers in the county, Colin Cheer. But it was much more about the intelligent way he crafted his innings.
Injury has prevented him opening the bowling for the last few weeks, but he is hopeful that he will return to full fitness this weekend.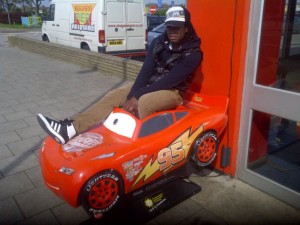 "      
                                   PHOTO : Adrian with his car
Adrian said, " I go to the gym everyday then practice at the Club in the afternoon – they have 2 full nets, bowling machine etc…..and on Thursdays we have team practice. We play on Saturdays and Sundays with the occasional weekday game. Except for the side strain, which has prevented me from bowling the past 3 weeks, everything is great."
Adrian has taken 11 wickets at an average of 12.82 runs, plus a 5 wicket haul in a practice game. Batting he has scored 268 runs at 33.6 average, including scores of 78*, 50, 45 & 34.
Gordon is a founder (with American College Cricket President Lloyd ) of the NU-Polytechnic Cricket Club, and its former captain. A 2010 American College Cricket Player of the Year, and a 2011 Championship co-MVP, who spent 2 weeks with the Rajasthan Royals team in the 2011 IPL.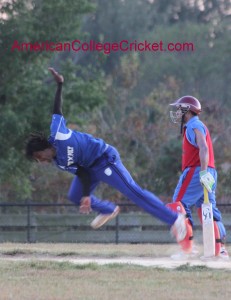 Bottom Photos:  1- bowling at the American College Cricket Northest regional
2. being honored by NYU-Polytechnic University, with its President Jerry Hultin