by Lloyd Jodah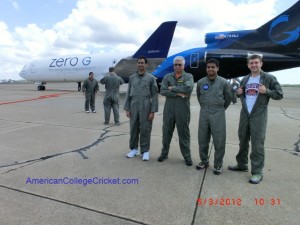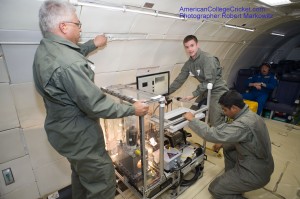 "It was a one of a kind experience !" the usually cool Naveenan Thiagajaran said.
"We went up in the plane on two days, and I spent a total of 1600 seconds in zero-gravity. It was the next best thing to actually being in space. Wearing the NASA uniform was really cool , like wearing the Auburn Cricket uniform !"
When asked what he thought would be the efffect of Zero Gravity on a cricket bowler, Naveen laughed and said, "The ball would never hit the ground, it would be kind of like a Shoiab Akhtar beamer lol !" 
What about a batsman hitting a six ? "That would never come down, it would be like an Afridi or Chris Gayle 6 !" 
Naveenan Thiagajaran, Captain of the Auburn University Cricket Club, and a 2011 American College Cricket Player of the Year was chosen for the flight together with Sushil Bhavnani, Auburn faculty member and Auburn undergrad Travis Wheeler.