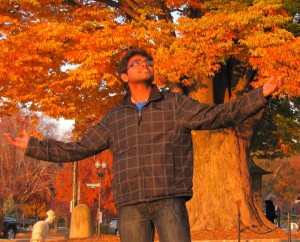 Kartik Radhakrishnan was selected as the Virginia Tech Sports Club Male Athlete of the Year 2011 ! This award was presented from among 31 sports clubs listed under the Department of Recreational Sports.
Karthik is a batsman, and an off spinner. He was the Vice Captain of the Virginia Tech Hokies team that participated in their first National Championship, the 2012 American College Cricket Spring Break Championship last March. 
The Virginia Tech team also plays in the Mid Atlantic Cricket Conference and here are Kartik's stats for the 2011 season:- 11 matches, 344 runs at 34.40 average including 3 fifties (1 in semis) and 1 century. All this after he had one of the worst start to the season scoring 0,1,0,0 (total 1 run) in the first four games

–
Kartik took 26 wickets, 10.31 average, 15.58 strike rate and an economy rate of 3.97. He was the highest wicket-taker of the season among all the teams. He had 6 catches and captained the team in the semifinals in the absence of the regular captain. 
–
Kartik graduated Sept 2011 with a Master of Science in Environmental Engineering from Virginia Tech. He received his B.Tech Civil Engineering from one of the premier institutes, NIT Nagpur, India in 2007 then worked for 2 years at Essar Steel Ltd in Gujurat as a Structural Engineer.
Kartik Radhakrishnan's selection as the VT Sports Club Male Athlete of the Year follows the Gators' Ricky Nayar's groundbreaking nomination for a similar Award at the University of Florida last year.
This is another manifestation of how participation in American College Cricket is giving cricket, and our players, a profile in Colleges all over the USA & Canada. In 3 and a half years we've progressed from where there was no organized collegiate cricket, to now our players are being recognized as just like in any other sport !