Naveenan Thiagajaran, Captain of the Auburn University Cricket Club, and a 2011 American College Cricket Player of the Year has been chosen to fly on NASA's Zero-G reduced-gravity aircraft ! Naveen will fly out of NASA's Lynden B. Johnson Space Center in Houston on May 3. 
As Morgan Stashick explained in the Auburn University Samuel Ginn College of Engineering media :
Sushil Bhavnani, faculty member in Auburn University's Department of Mechanical Engineering, doctoral candidate Naveenan Thiagarajan and undergraduate student Travis Wheeler have been chosen to fly on NASA's Zero-G reduced gravity aircraft, affectionately known as the "Vomit Comet."  The team's project, "Fluid Lateral Motion using Surface Microstructures-Channel Flow from a Large Array," was selected for the flight to study the effects of microgravity on boiling.
Thiagajaran, who began the project three years ago whilst completing his Master's, told Morgan, "I am thrilled to be a part of this experience, this project is a significant part of my dissertation, and is a story that I will be proud to tell my grandchildren."
We haven't spoken with them, but we're sure that Naveen's parents are thrilled at the prospect of grandchildren and great-grands.
An excellent cricket captain and Club President, Naveen led the Auburn Tigers to the final four at the nationals in March 2011, after Auburn defeated University of Florida for the South East regional title in Nov 2010. Losing a number of key players to graduation, Auburn did not fare as well at the 2012 American College Cricket Nationals.
As a batsman, he has given Auburn solid starts as an opener. In 2011 (at the South East regional & the American College Cricket Spring Break Championship) he made three fifties, 56*,59 & 50 . Two of which came against SEC rivals the Gators. 
No doubt after his stint in zero gravity Thiagajaran will bring new perspectives to cricket's eternal debates about a cricket ball's "flight" and "reverse swing".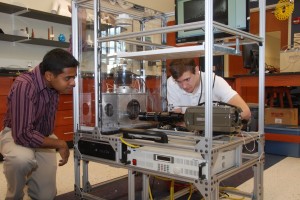 PHOTOS courtesy of Morgan Stashick, Auburn University Samuel Ginn College of Engineering